Release Date :
31-08-2022
Movie Run Time :
3:03 Hrs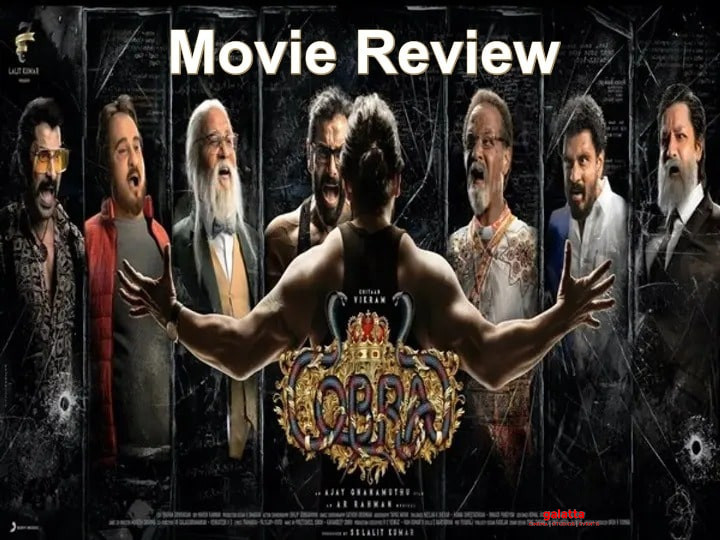 Cobra Movie Cast & Crew
Production :
Seven Screen Studio
The film tries to like 'Anniyan', where Vikram pulled out all the stops as a man with a mental condition who becomes a superman-vigilante. Here, he's an assassin
Ajay Gnanamuthu's Cobra is apparently about a mathematician who's a master of disguises. Like a snake sheds its skin, he sheds his personas. Like a snake strikes when provoked, he strikes, too. Given the fact that the protagonist's nickname has to be reptilian (see connections above) and have a mathematical connection, why not… "adder"? But I guess "cobra" is cooler-sounding. Plus, it is the cleverest of snakes. Don't look at me. I am only repeating what the screenplay says. But unlike what the trailer suggested, this is not a simple thriller, like, say, the Mission: Impossible movies, which are all about action and suspense. The core of Cobra is a lot of deep-rooted emotion, which is revealed in a really long Shankar-style flashback. Let me just say the film tries to be like Anniyan, where Vikram pulled out all the stops as a man with a mental condition who becomes a superman-vigilante. Here, he's an assassin. I think.
Vikram is not bad in Cobra, but for an actor of his calibre, this is chicken feed. But no worries. He already wowed us in Mahaan this year. The best thing Karthik Subbaraj did in Mahaan is write a great part for a great actor who does not often get great parts. And he has Ponniyin Selvan coming up, and then a Pa Ranjith movie. So Vikram's performance in this underwhelming film is almost immaterial, because he is let down by an overstuffed screenplay that has zero clarity in terms of the emotional arcs. When you are trying to tell a story about a man who may be damaged, why waste so much time on a romance angle with Srinidhi Shetty? Or if you have to have a heroine, why not make her the one who's helping the Interpol? Why have a separate character for that purpose?
Speaking of Interpol, Irfan Pathan shows his competence and his importance to the movie in an early scene where he sees a sign that says HKG. Any half-decent globe-trotter should know that the acronym stands for Hong Kong airport, but not our man. He stares at the sign and says, "I have seen this somewhere." Well, no wonder he keeps running around the movie without accomplishing anything. If he cannot figure out HKG, he must be in the LKG of Interpol. Wikipedia lists six writers for Cobra, and yet, the film appears defanged. There are scenes in the first half that aren't half-bad, but the second half goes on and on – without the desired impact. Another thing: the sound mixing (both the effects and AR Rahman's score are thunderous) drowns out some of the dialogue, which made me feel I'd lost some key information. Or maybe I didn't.
If a movie runs three hours, the least you expect is coherence. But here, I was left wondering why someone from Tamil Nadu was called to assassinate people in Scotland and Odisha, or indeed, what the connection between these victims are. Why doesn't the KS Ravikumar character take more care about hiding his identity? For all the fuss about mathematics, why is the second half so subtracted of the subject? What is Roshan Mathew doing in this movie, smirking like a schoolkid playing a Russian gangster? The interval twist is interesting (in theory), but it should have led to a far better second half. Just recently, in Maanaadu, Venkat Prabhu proved that it is possible to take Hollywood genre material and Indianise it beautifully. Cobra, on the other hand, is proof that not everyone can do this. You watch the screen without a fraction of involvement.
About Author
Baradwaj Rangan
National Award-winning film critic Baradwaj Rangan, former deputy editor of The Hindu and senior editor of Film Companion, has carved a niche for himself over the years as a powerful voice in cinema, especially the Tamil film industry, with his reviews of films. While he was pursuing his chemical engineering degree, he was fascinated with the writing and analysis of world cinema by American critics. Baradwaj completed his Master's degree in Advertising and Public Relations through scholarship. His first review was for the Hindi film Dum, published on January 30, 2003, in the Madras Plus supplement of The Economic Times. He then started critiquing Tamil films in 2014 and did a review on the film Subramaniapuram, while also debuting as a writer in the unreleased rom-com Kadhal 2 Kalyanam. Furthermore, Baradwaj has authored two books - Conversations with Mani Ratnam, 2012, and A Journey Through Indian Cinema, 2014. In 2017, he joined Film Companion South and continued to show his prowess in critiquing for the next five years garnering a wide viewership and a fan following of his own before announcing to be a part of Galatta Media in March 2022.
User Review