Release Date :
13-04-2022
Movie Run Time :
2.35 Hrs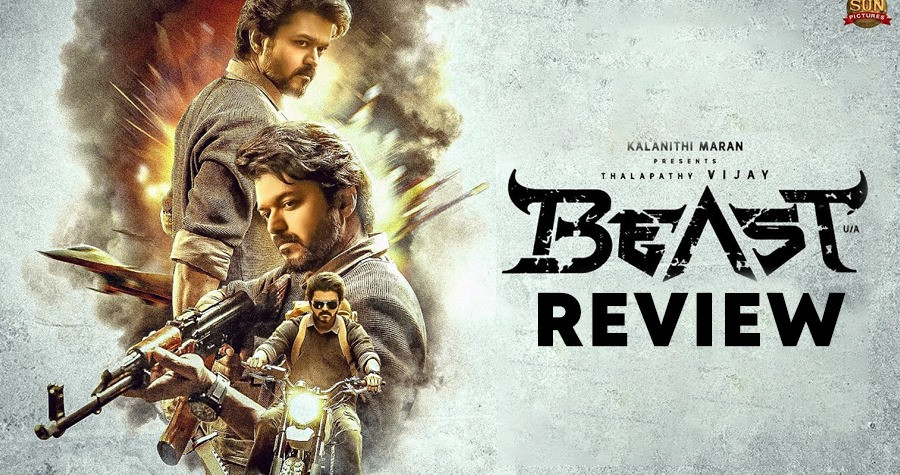 Beast Movie Cast & Crew
Production :
Sun pictures
The first fifteen-odd minutes of Nelson's Beast show promise. The tone of Vijay's introduction scene is pleasantly low-key. (He plays a RAW field operative named Veeraraghavan.) There is a pretty decent action stretch. And we get a death that is as unexpected as the death of the little boys in Master. There, those boys died due to the hero's alcoholism. Here, the death is due to a betrayal, and it changes the Vijay character. He resigns from RAW and begins to see a therapist. A therapist! At this point, I was genuinely surprised. Are we going to get a Vijay movie where the hero is really vulnerable, where his psyche is scarred like in Daniel Craig's Bond movies?
Five minutes later, I was slapping my forehead. for expecting all this. The therapist is making tasteless jokes. At a wedding, Pooja Hegde randomly makes a sort-of pass at Vijay and we launch into Anirudh's Arabic kuthu. And the mood established in the opening stretch is completely gone. I knew that Beast would not be a total drama. And I know that mainstream Indian cinema – especially one with our biggest star-hero – cannot do 100% justice to a genre. Here, the overall genre is action-adventure and the sub-genre is the hostage drama. So I did not go in expecting high-intensity thrills that keep you biting your nails, because they're going to keep diluting the genre with comedy and slo-mo hero worship and all that.
What I did not expect was that the rest of the movie – that is, after the opening stretch – would be so flat and so generic. I did not expect that so much of the cast – people like Yogi Babu or Redin or Pooja Hegde or poor Shine Tom Chacko – would be so underutilised. I did not expect the total lack of interest in exploring Vijay's trauma from his RAW days, something that could have given the film a real dramatic kick between the action moments. And I did not expect the other action scenes to be so underwhelming. There's a super-cool, kick-ass moment in the opening stretch that has Vijay walking on a wall while killing someone. We never get that kind of super-cool, kick-ass moment again.
But more than anything, I did not expect a Nelson film to have so little flavour. Agreed, he has made only two movies (Kolamavu Kokila, Doctor) – but they have such a distinct voice, such a distinct vision, and such wonderfully dark humour. And here, we actually get a line about Yogi Babu not wearing any underwear. A bulk of this so-called humour goes to VTV Ganesh and his character begins to grate on your nerves. The biggest laugh I got was in a scene where Vijay is talking to a terrorist in Hindi. Then he says: Chumma ellathayum Hindi-la translate pannitirukka mudiyadhu. Tamizh kathukko. I laughed at how sometimes, strangely, movies mirror real life. Because Beast started shooting long before the current controversy.
Also, why drag these genre films to 2 hours and 40 minutes? Why keep repeating tired old characters like the corrupt minister and the sick child and Muslim terrorists? But yes, it's a nice touch that Selvaraghavan's character is named Altaf Hussain. He is one of the good guys and he gives the film's only good performance as a government man resigned to taking orders from less-smart men. After a while, the flab in the film really begins to show, and we see Anirudh desperately trying to make things seem more exciting with his score. 

Beast is proof that a really talented director needs a really good script to take on a really big star. I mean, one movie that does not work is not a major issue. It happens to all directors. But what's really frustrating is the apparent lack of effort. Many scenes play like the script isn't even trying, and it's just hoping that Vijay will save the day. He does, but only to a small extent – because the role demands practically nothing new from him. I was prepared for a 50% Vijay-50% Nelson movie. But Beast never reaches those percentages.
About Author
Baradwaj Rangan
National Award-winning film critic Baradwaj Rangan, former deputy editor of The Hindu and senior editor of Film Companion, has carved a niche for himself over the years as a powerful voice in cinema, especially the Tamil film industry, with his reviews of films. While he was pursuing his chemical engineering degree, he was fascinated with the writing and analysis of world cinema by American critics. Baradwaj completed his Master's degree in Advertising and Public Relations through scholarship. His first review was for the Hindi film Dum, published on January 30, 2003, in the Madras Plus supplement of The Economic Times. He then started critiquing Tamil films in 2014 and did a review on the film Subramaniapuram, while also debuting as a writer in the unreleased rom-com Kadhal 2 Kalyanam. Furthermore, Baradwaj has authored two books - Conversations with Mani Ratnam, 2012, and A Journey Through Indian Cinema, 2014. In 2017, he joined Film Companion South and continued to show his prowess in critiquing for the next five years garnering a wide viewership and a fan following of his own before announcing to be a part of Galatta Media in March 2022.
User Review