Release Date :
11-10-2019
Movie Run Time :
2:13 Hrs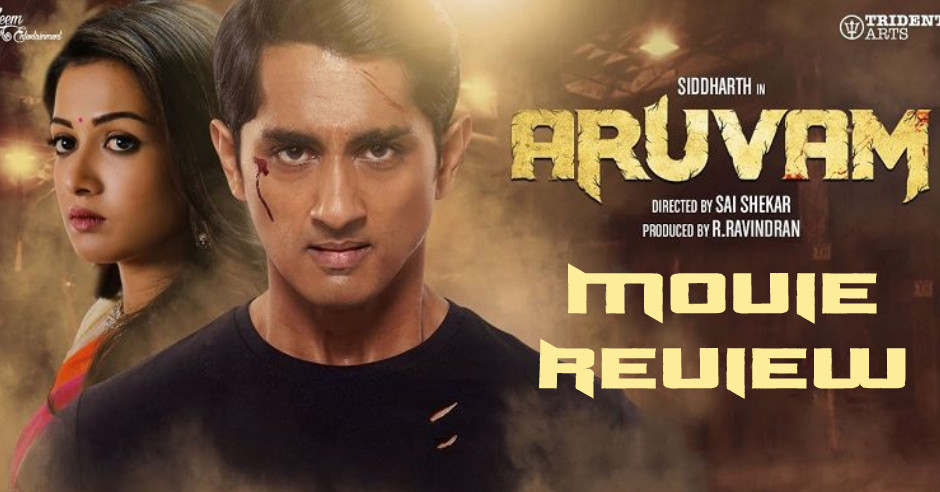 Aruvam Movie Cast & Crew
Production :
Trident Arts
Aruvam is a social-horror flick starring Siddharth and Catherine Tresa in the lead roles. This film is directed by debutante Sai Sekhar and produced by Ravindran of Trident Arts with music by Thaman SS.
Coming to the plot, the story moves along the usual horror genre template. Every 15 minutes, you get to see an invisible ghost killing a bad person and between this, there is a weird romantic track, songs and a few sentiment portions too. The film takes a full one hour to take the centre-stage. Even after that, it doesn't excite us in any manner. As usual, the typical 'Paavam Da Pei Flashback' opens up and after that the revenge takes place, but this time the ghost is obviously visible as the identity is revealed in the flashback.
The basic contrast in Siddharth and Catherine Tresa's characterization is good. The hero is a Food Safety officer and the heroine is a school teacher who suffers from Anosmia (No Sense Of Smell). But unfortunately, the situations between them are generic, though it is for a reason, we get a feeling that they both should have had some better moments with this base idea. Catherine Tresa's character is presented in a very melodramatic manner, so we really don't get to feel for her smelling disorder. Siddharth's character establishment sequence is one of the very few good scenes of the movie, it has the perfect amount of heroism and a meaningful substance too.
The screenplay is irregular in the first hour. We don't get to see a proper plot-point driving the story. Even otherwise, the happenings have continuity issues. A topic is taken, then left abruptly and then the same is discussed after quite some time. The end product is poor, a bunch of amateurish shots, shabby dialogues and age-old moments take place on a regular basis. Most of the dialogues are filled with rhyming words, 'Unavu-Kanavu', 'Uruvam-Aruvam' for instance, even though it makes sense, it automatically evokes laughter which is a wrong sort of emotion for that particular situation. There are some needless subplots that don't connect tightly with the core of the movie at all. For example, there is a scene in the first half that takes place in a school canteen, it is a subplot that has a closure in the latter.
The song placements are terrible, one romantic montage appears right after Siddharth is impressed by the kind-hearted behaviour of Catherine towards a stranger. Another song pops out when Catherine's health issue becomes normal. Before the song, there is an awkward scene at the hospital which is extremely over-performed by Aadukalam Naren. Coming to the flashback, Siddharth is super smart in his looks and formal attires. He has done justice to his role.
The writing shows some promise as well, as there is a certain level of research in how the chemicalized food products are prepared. Sadly, the same style of heroic moments are repeatedly shown, which tones down the impact. Sathish as a co-worker of Siddharth'd tries to entertain with his own set of boring jokes. The momentum actually builds up with a decent twist in the halfway mark but sadly drops down again with its template flow. The villains are presented in a predictable way. Just to build them up, the Police department and Politicians are unwantedly compared in a vague manner. And, the baddies are killed at the ending by a Kanchana level of terror climax. Also, the VFX shots are too artificial to fit in the current scenario, there are plenty of them and could have been avoided easily.
Verdict An outdated revenge horror flick that is neither emotional nor entertaining
Galatta Rating: (
2

/5.0 )
User Review
Latest Tamil Movie

Reviews