Poornima Bhagyaraj relives the 80's at the Galatta Wonder Women Awards!
By MKV | Galatta |

October 23, 2019 20:03 PM IST
The 80s sure was a golden age for cinema - the movie print was retro, the stories dramatic and the women beautiful. When Poornima Bhagyaraj, Ambika and Nadia came up the dais at the Galatta Wonder Women awards for the announcement of who had been voted the Icon of the 80s, the crowd went crazy remembering the beautiful movies credited to these ladies. All three '80s girls' were trendsetters, acting wonders and undoubtedly the queens of hundreds of thousands of hearts. They were ushered on-stage with their hit songs playing - Poornima Bagyaraj walked up to the stage to the song 'Poomalai oru paavai aanatho' - much to the delight of the crowd, while Nadia and Ambika were also given songs that were milestones in their careers.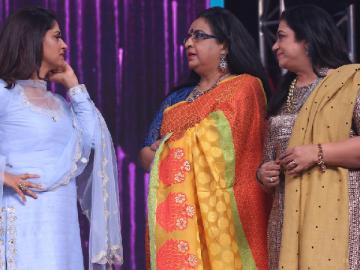 The love of the fans for the trio remains the same as always, if the cheering the three received is anything to go by. We handed over the title of 'Icon of the 80s' to Ambika because we could give it to only one of the ladies - and the trio sportively relived the 80s through two songs. We played the song 'Poomalai...', because we thought that would be easy but then were rebuked by Ambika, who sought a faster number. The ladies then gave us a few steps to the songs 'Adiye.. Manam nilluna nikkathadi' before returning to their seats to continue the trip down memory lane. We thank Poornima Bhagyaraj for gracing the Galatta Wonder Women Awards.