Myna Nandhini gets engaged to this popular serial actor!
Popular serial actress 'Myna' Nandhini should be a happy girl right now after her engagement with actor and dancer Yogeshwaran. Yes, Nandhini has been in love with Yogesh for the past few months and their relationship has now entered the next stage. The engagement is said to have happened yesterday (October 31) and the couple are flooded with congratulatory wishes and messages. For those of you who do not know about Yogesh, he is acting in serials like Nayagi and Sathya. Nandhini is known for her memorable character 'Myna' from the serial Saravanan Meenatchi.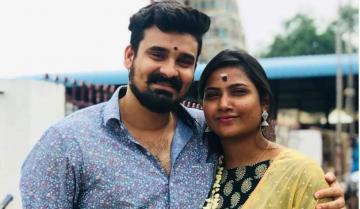 She went on to do brief characters in films like Vamsam, Romeo Juliet, Kanchana 3 and the very recent Namma Veettu Pillai. The wedding date is not yet known and the couple is expected to announce the d-day soon. At this happy juncture, Galatta Media sends its best wishes to 'Myna' Nandhini and Yogeshwaran on their engagement.