Bigil Music Review - RATING INSIDE
By Vivek Raj | Galatta |

September 20, 2019 17:03 PM IST
A massive film in the making, 'Thalapathy' Vijay's upcoming action sports drama, Bigil, also marks the fifth-time collaboration for the superstar with Academy Award-winning composer A. R. Rahman and is their third association on the trot after Mersal in 2017 and last year's Sarkar. An Atlee directorial produced under the AGS Entertainment banner, the complete Bigil album was released in a grand manner yesterday at Chennai. With three songs already released initially as single tracks, expectations for the album has been sky-high for a while now.
Here, we bring you our review for the complete Bigil album:
Song Name: Singapenney
Singers: A.R Rahman and Shashaa Tirupati
Lyrics: Vivek
The first song that was released from Bigil, Singappenney, lays emphasis on the spirit of women and women's empowerment in general with A. R. Rahman and Shashaa Tirupati complimenting lyricist Vivek's uplifting verses. The song has a standard beat and includes a lot of power to give a sense of motivation with the lyrics encouraging women to break away from the stereotyped perceptions of the society. Although reminiscent of 'Oru Viral Puratchi' from Sarkar and 'Ginga' from Pele, A. R. Rahman has once again delivered a thunderous track that has left fans everywhere satisfied. The song in itself with its powerful lyrics gives us a hint that it will be placed at a crucial juncture in the narrative and will show Vijay doing his job as more than a just coach and rise up to the occasion to be a mentor to the girls in the football team.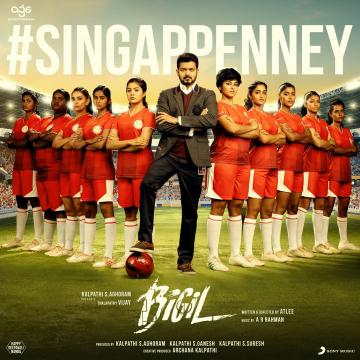 Song Name: Verithanam
Singers: Vijay
Lyrics: Vivek
A celebration song right from the beginning, Verithanam is going to serve as a major dance fest for fans in theatres when it comes out and is surely en route to being requested to be played on a repeat basis. A fast-paced song with a local flavour and Vijay's high energy, A. R. Rahman has knocked it out of the park this time and is just as it has been titled - Verithanam! The song being a mass number, ARR has fleshed out everything ranging from the vocals and beats, which have gone on to become a major hit with both kids and adults alike. Be it the lingo in the song or the percussions along with Vijay's voice, which is high in confidence, Verithanam is a sure shot winner in the album.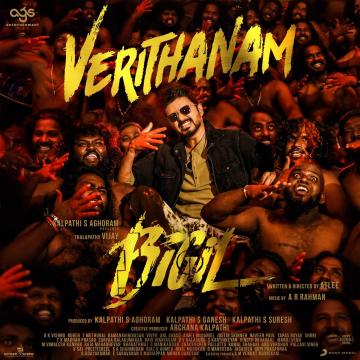 Song Name: Unakaga
Singer: Sreekanth Hariharan and Madhura Dhara Talluri
Lyrics: Vivek
Unakaga begins with a lilting soft flute instrumental piece and merges with the main tune, which attempts at be melodious. It takes a while for us to get used to take a liking to the song despite being similar to the Neethane song in Mersal. With Vivek's flowing lyrics and occasional classical interludes, the song will need a lot in terms of visuals by Atlee to be a winner since it isn't completely one now. For a romantic melody, we wonder if A. R. Rahman could have given us something more and better considering the composer has given us countless soulful hits in the genre.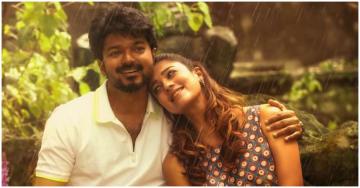 Song Name: Maadhare
Singers: AR Rahman, Chinmayi & Madhura Dhara Talluri
Lyrics: Vivek
Maadhare is a different song in the album for its lyrics speak about how society views women in general and how they are kept in the shadows for their entire lifetime. Lyricist Vivek has done justice to the song with his powerful lyrics despite the song lacking the punch, which we believe is intentional. For a song like Maadhare to become a complete winner, it will take a lot more than just the tune alone to succeed as it is not a song that will stay long in the minds of the masses. A lot relies on the visuals, which based on the song we can assume will be at an extremely important point in the narrative.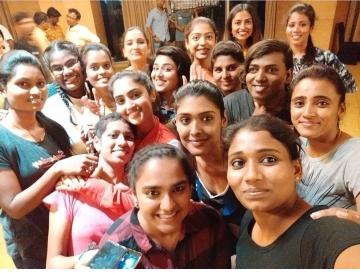 Song Name: Bigil Bigil Biguluma
Singer: AR Rahman
Lyrics: Vivek
The song starts off on a bang with A. R. Rahman throwing in percussions and a flowing shehnai instrumental ballad tune, which eventually gets taken over with a chorus singing the peppy short lyrics, which Vivek has compiled. Based on the track, we can assume Bigil Bigil Biguluma will pop up at several intervals during the narrative to further elevate the mass moments in the film.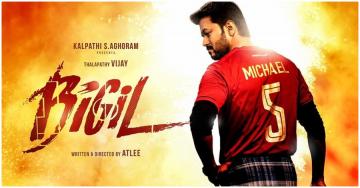 VERDICT: A.R. Rahman's attempt to bring in a diverse mix with Bigil could have had more Verithanam!
RATING: 2.75/5