Galatta |

17/04/2012 12:00 PM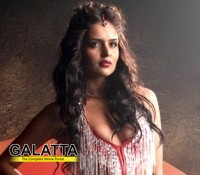 Nobody can mess with Superstar Rajinikanth, not even RGV! Recently there was a widespread speculation about the item number 'Dan Dan Cheeni' from Department being lifted from Rajinikanth's 'Aasai Nooruvagai'. But within few minutes of it's release fans started discussing about the similarities! The surprising factor is that it is not just the tune which is similar but also the picturisation.

In the original song Rajinikanth flirts with a number of women around him and here in the new version RGV's latest find Brazilian model Nathalia Kaur, does the same with hundreds of men seeking her attention.

To end all these speculation RGV has now clarified that the song is his tribute to Superstar Rajinikanth. "The inspiration rights have been taken.. that Rajinikanth song has been one of my all time favourites and Nathalia Kaur song is a tribute to it," RGV posted on Twitter.

That's why we say, 'Nobody can mess with Superstar'!