Galatta |

26/01/2019 02:20 PM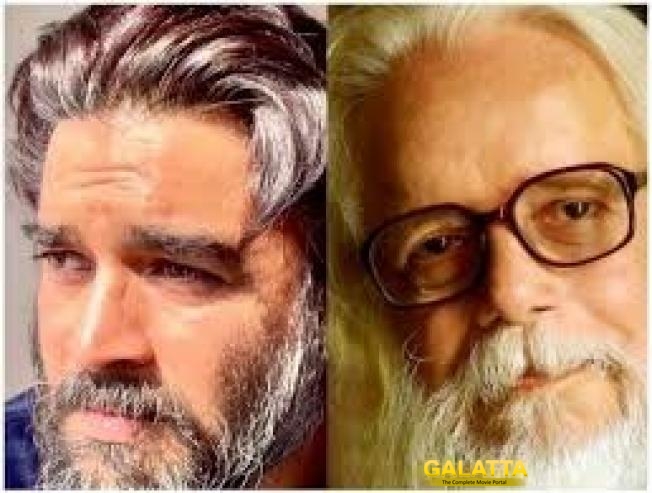 R. Madhavan will be seen making his directorial debut in Rocketry - The Nambi Effect, a biopic on former Indian scientist Nambi Narayanan, with music by Sam CS.
Recently, Maddy released pictures of his transformation for Rocketry sporting the look of Nambi Narayanan, which went on receive praises from all corners. Even his transformation made a buzz after a trending meme was acknowledged by the actor himself.
On account of the 70th Republic Day, the Padma Awardees list was released and the controversial scientist Nambi Narayanan's name was included to be honoured with the Padma Bhushan award. With the news coming out, a curious fan has queried Madhavan if the development will be included in Rocketry to which the Irudhi Suttru star revealed the script will not be altered.
Nope . Nothing changes in the script.. oiiii¿½i¿½ii¿½i¿½iii¿½i¿½ii¿½i¿½™iiii¿½i¿½ii¿½i¿½iii¿½i¿½ii¿½i¿½oiiii¿½i¿½ii¿½i¿½iii¿½i¿½ii¿½i¿½™iiii¿½i¿½ii¿½i¿½iii¿½i¿½ii¿½i¿½oiiii¿½i¿½ii¿½i¿½iii¿½i¿½ii¿½i¿½™iiii¿½i¿½ii¿½i¿½iii¿½i¿½ii¿½i¿½oiiii¿½i¿½ii¿½i¿½iii¿½i¿½ii¿½i¿½iiii¿½i¿½ii¿½i¿½iii¿½i¿½ii¿½i¿½zoiiii¿½i¿½ii¿½i¿½iii¿½i¿½ii¿½i¿½iiii¿½i¿½ii¿½i¿½iii¿½i¿½ii¿½i¿½zoiiii¿½i¿½ii¿½i¿½iii¿½i¿½ii¿½i¿½siiii¿½i¿½ii¿½i¿½iii¿½i¿½ii¿½i¿½oiiii¿½i¿½ii¿½i¿½iii¿½i¿½ii¿½i¿½siiii¿½i¿½ii¿½i¿½iii¿½i¿½ii¿½i¿½ https://t.co/6dqWLtxJoq

— Ranganathan Madhavan (@ActorMadhavan) January 26, 2019