Galatta |

26/08/2014 09:54 AM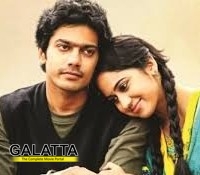 Amara Kaaviyam is an upcoming movie produced by actor Aarya's The Show People and Vignesh Pictures. Starring Arya's brother Sathya and Mollywood's Mia George in the lead roles, this movie is directed by Jeeva Shankar of Naan fame. Music is by Ghibran and Jeeva Shankar himself has taken care of the cinematography. The movie is a romantic tale set in 1988 and has Sathya playing the role of a high school student. Talking about the movie, Jeeva Shankar says that the script is based on a real-life incident that he came across in his school days. Sathya says that the story talks of the way a person's first love touches the individual and how it shall remain in our hearts forever.
Jeeva Shankar adds that despite knowing Arya as an actor, he finds Arya the producer to be the best producer ever. He credits Arya's trust in the script and the technical team and his non-interfering attitude for this statement. Both Ghibran and art director Selvakumar feel that this movie will be a major milestone in the careers of all the people associated with this project. Ghibran emphasised that this would be a movie that he would feel proud to have worked in when he looks back at his career, even 15 years down the line.
Jeeva Shankar revealed that Amara Kaaviyam was the first script he had written (around 2006 itself), but had followed a friend's advice not to make a romantic movie then as there were a lot of romantic movies being released and had written the script for Naan. With all the positive buzz surrounding Amara Kaaviyam, we just can't wait to watch the movie.