Galatta Review Board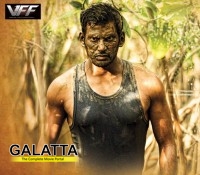 A man and his son die when struck by lightning. A police officer collapses in his office and dies. A detective frustrated with no case takes up the search for the murderer of a young boy's pet dog.
These seemingly disconnected instances form the introduction to detective Kaniyan Poonkundran and his friend Mano. In their efforts to help the young boy, they stumble upon a missing physics professor. This leads them to cross paths with a cold blooded and dangerous group who will do anything for money.
As Kani gets closer to finding answers he is surrounded by more dangers. Does he solve the riddles and put the missing pieces together forms the rest of the story.
This is the first Tamil movie inspired from the Sherlock Holmes genre of detective stories. Mysskin has managed to weave together thrill and humour well.The strength of the movie is indeed its writing and it definitely paves the way for more movies with the characters Kani and Mano.
Vishal has Kani is a welcome change from his usual action roles. Ofcourse he has his share of fights, but it is interesting to see him as a harmonica playing detective.
Prasanna has proved time and again that no matter what the role he can do justice. And he does just that in Thupparivalan. Without him Gani would be incomplete.His interactions with Kani though not many, are fun to watch. There was a lot of scope to delve into their camaraderie further. Hopefully if Myskkin and Vishal make more Thupparivaalan movie, this will be a great aspect to explore.
Bhagyaraj and Vinay are the surprise casting in the movie. You would not expect them to pull off such dark characters. With hardly any dialogues Bhagyaraj does manage to make the audience empathise with him, especially toward the end. Vinay's sweet face hides the villainy in him. 
Rest of the cast which includes Andrea, Simran, Anu Emmanuel, John Vijay, Jayaprakash, Thalaivasal Vijay, Abishek Shankar and Ajay Ratnam have given able support.
The look of the movie seems vintage yet modern. The background score by Arrol Corelli ties with the narrative. It's pace moves with that of the screenplay. The dialogues are well written, especially the humour portions. The dialogues in the claimx scene in the clincher. Editing and the camera work stand out at several places.
All in all Mysskin has given Tamil cinema a new genre to look forward to. This has definitely opened the doors for more movies in this series for actor-producer Vishal and director Mysskin to bring to the audiences.
Thumbs Up
Vishal as Kani has worked hard to capture the eccentricites of the character. There is definitely scope to add more to the role in the future movies if they are made.
Prasanna is an under-rated actor in Kollywood. He is real and likable as Mano. Thanks to Mysskin for using him in his movies time and again and giving us a chance to watch such a good actor on screen.
There are no songs in the movie and that is a big plus. It would definitely have hampered the narrative. Any other filmmaker would be tempted to add a song to showcase the 'budding affection', but Mysskin stayed away from such temptations.
Thumbs Down
The fight sequences are abit long, especially those in the first half. Reducing them would definitely make the movie a bit more fast paced, something that this genre of cinema needs.
A bit more care should have been taken in the look of rest the characters of the movie. For eg. the cops when they get into combat mode are just in casual clothes and a gun. No cop gets into a chase without any sort of protective gear.
Verdict
A must watch. A different kind of movie that is definitely a welcome change in today's Kollywood. Mysskin and Vishal Film Factory have a winner in their hands.
Verdict :A must watch. A different kind of movie that is definitely a welcome change in today's Kollywood.
Galatta Rating: ( 3.75 /5.0 )
Public/Audience Rating
Thupparivaalan
Thupparivaalan is a Tamil movie. are part of the cast of Thupparivaalan. The movie is directed by Music is by . Production .