Super Deluxe Movie Review
(2019)
https://www.galatta.com/assets/review/829680686.jpeg
29-03-2019
Thiagarajan Kumararaja
Release Date :
29-03-2019
Movie Run Time :
2:56: Hrs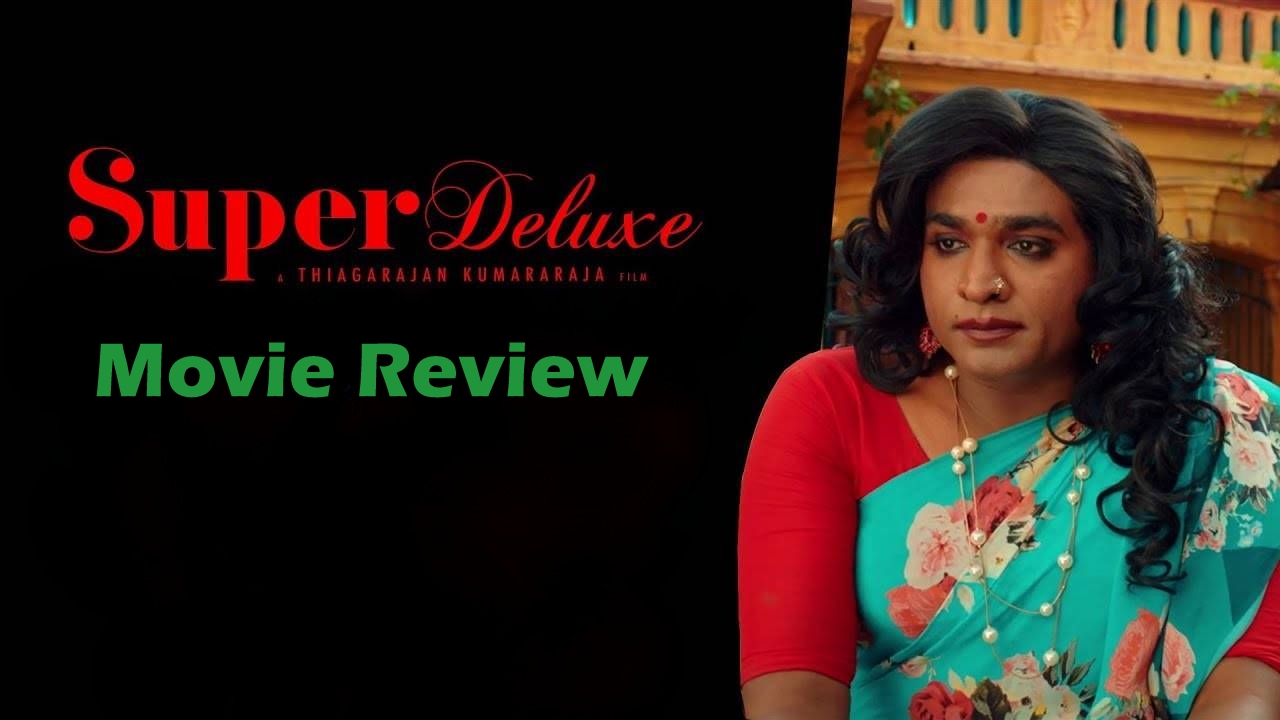 Super Deluxe is based on a number of stories - one of an angry young teenager and his gang of friends, another is based on an arranged marriage couple and how their relationship takes a complete turn when facing an unexpected situation. Another story is based on how society and their family treat a transgender person. 
Even though each of these stories is intense on their own, the way they interlink and overlap make for an interesting viewing package, making the audiences take note of the director's effort behind it. All the stories in this movie have some aspect or the other which has never been touched upon, elsewhere. All the actors, right from the young Ashwanth to the boys who play teenagers and all the senior artistes like Vijay Sethupathi, Ramya Krishnan, Fahadh Faasil, to Samantha and Mysskin, have delivered excellent performances, each outdoing the other. A character we would not have deemed important till now creates a major impact in the movie and also interlinks two different stories. This character has also delivered an outstanding performance. 
The way director Thiyagarajan Kumararaja has not strongly force-fed any of his opinions on the viewers but interspersed some important points through different characters reacting to their situations has been neatly handled! He has very brilliantly shown that although every individual has a positive as well as negative side to them, there is also a neutral aspect to their character. In our society, Transgenders are viewed with pity by some, fear by a few others and as objects of sexual gratification by some others. However, the purity and innocence with which a child looks at a Transgender in this movie have been so poignantly portrayed by the director that we feel it might even bring about a positive change in the way our society looks at them! 
The first half, despite not being racy, has been very beautifully staged and keeps the viewers completely engrossed. However, there seems to be a lag in the second half which can be solved by trimming a few scenes without actually removing them entirely. An alien concept in the movie might not be easily understood and acceptable by most viewers. Also, there are a few characters in the movie who travel between 2 different time frames, which makes it rather difficult for viewers to understand, initially! Though most people would enjoy watching the movie at the theatres, we are also able to see a few people get restless and it is not sure how well this movie would go down with the family audiences. There are many thought-provoking scenes in the movie, which would augur well for society if it is well received by all sections of the viewers.
The dialogues create a rather strong impression on the viewers and they have been very sensibly written. The way music and at times just silence has been used to elevate a scene, are simply brilliant. Specifically, the interval block and a sequence involving a gangster are funky and have been presented well! There are many scenes in both the halves which have been shot in single continuous takes and the actors' talent in these scenes are outstanding. Vijay Sethupathi taking up such a challenging role in this phase of his career is definitely appreciable. Samantha taking up such a bold role also has to be equally appreciated. Every single actor's performance is very natural. Fahadh Faasil's character gets emotional at times and quotes a number of dialogues which might not seem relevant at first look but a little deeper understanding would show the relevance to everyday life situations in them. His character would be the most easily relatable to most of the audiences. Ramya Krishnan and Mysskin have also delivered flawless performances which connect very emotionally.
The effort gone into the editing and cinematography is evident from the way scenes transform from one story to another, seamlessly! The technical brilliance in the movie is as strong as the way the various stories have been interlinked! It is difficult to comment on the DI work as a general audience but when one compares the making footage to the finished movie - the amazing difference is very commendable! Irrespective of whether this movie is good or not, it surely is a one-of-its-kind movie and also not thinking of the commercial results, Super Deluxe shall remain one of the most important movies ever, in Tamil cinema!
Verdict Super Deluxe is one of its find film that is super high on various levels. Don't miss it!
Galatta Rating: (
3.25

/5.0 )
User Review
Latest Tamil Movie

Reviews