Galatta |

12/07/2019 08:19 PM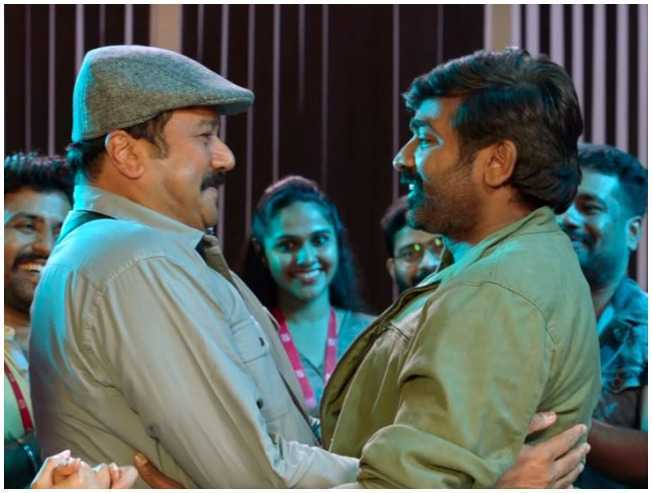 There used to be a time in history, when Malayalam movies were transitioning from its 1980s phase to the urban setting it has found today when filmmakers would liberally use Hindi speaking - sometimes Tamil speaking - characters, or snippets of songs in the aforesaid languages. Usage of other languages, however, used to be supported heavily by elaborate subtitles. Then came along Double Barrel in 2015, where the cast is split into several language groups - all of whom spoke fluently in Malayalam. Going forward, we had Tamil characters speaking without the supervision of subtitles - Ee Adutha Kalathu, for example. Launch of Surya TV in the new millennium also helped, as the channel has been regularly showing the Malayalee audience, Tamil movies. Since the 2000s, Kerala has had a practice of regularly releasing Tamil, Hindi, and English movies with subtitles, when the practice had not yet caught on in other states. 
In 2019, when Vijay Sethupathy takes up what could be considered a very good chunk of narration, in a true-blue Malayalam movie, with hardly any support from the subtitles, Mollywood achieves a 'language secularity' that no other State can hope to achieve in the near future. This probably is the best take-away the movie, Marconi Mathai, offers. Marconi Mathai is a retired army man who works as a security guard in a rural bank. He's not married and has to suffer ridicule over his single status. He is well-loved and has an envious rapport with the people around him, but Mathai's is the story of a good number of men in Kerala who find themselves placed way too low on the marriage market and end up alone. We have the radio run through the first half of the movie - at times imposing on the narration forcibly - to help establish that Mathai loves the radio and deserves the nickname Marconi (after the radio's inventor).

The movie mostly goes through how Mathai finds a girl (a bank peon portrayed by Athmeeya Rajan) and is unintentionally humiliated to a point where he decides to run away. Vijay Sethupathy - who is playing himself - is promoting a movie on the radio and has a conversation with Mathai on love. This beautiful conversation has Jayaram say that he is a lover of everything from tiny flowers to the people around him, and Sethupathy replies in Tamil that he's also the same: you can watch this exchange between two seasoned actors only with an ear-to-ear grin. In the end, Sethupathy tries to find the missing man for the sake of the estranged girl - how this turns out makes the rest of Marconi Mathai.
If Marconi Mathai has an average script with no strong scenes, it compensates with an array of actors who can get the scenes moving without making the audience feel a lag. Jayaram is his charming self and is supported by his friends - director Joy Mathew (who makes his character believable by just existing), Lakshmi Priya, Sudheer Karamana, Mamukkoya, Lopez all do commendable jobs. Mallika Sukumaran does a wonderful job as the unstoppable nosy old woman. Aju Vargese looks and acts like he always does: there is nothing in this character that demarcates him as a Goan Malayalee - it is just another under-researched character which probably helped Aju Vargese pay some bills.

Ramesh Thilak is also on the way to finding some Malayalee love. The talented actor who was seen in Kumbalangi Nights earlier this year is a huge presence onscreen even though he appears only towards the end of the movie. He evokes a kind of collective response from the audience that makes or breaks a comedian - when he mispronounces Mathai and calls him Muthu, the audience willingly reacts to the obviously small joke, showing that he is already an accepted comedian. 
Tini Tom almost owns every one of his scenes. He evokes laughter without difficulty, has a beautiful onscreen rapport with everybody that makes humour all the sweeter. There is no 'line' to get the laughs - Tini Tom scores well on situational comedy, mostly with expressions and normal conversation. The movie also has tributes to some iconic romantic scenes that used to be the staple of the 90s movies - the director even features the 1990s' favourite tracking shot through the weeds which herald in scenic beauty.

Director Sanil Kalathil seems to have a penchant for cinematographic feats - most scenes are visually pleasing while not being too overpowering. You may notice the beauty, but it does not draw you away from the story at hand. The background is also similarly created to serve its purpose but not outshine the narration. The movie obliges the current trend of having a Hindi love song which original lyrics and the snippet-song is good too. If nothing, Marconi Mathai makes a heartening debut for Vijay Sethupathy into Mollywood. 
It is amply clear that he is improvising and most of the Tamil dialogues sound colloquial, earning the movie some brownie points. Makkal Selvan may have found fertile ground for his style of acting - a good number of Malayalam scripts allow actors room for improvisation and celebrate ordinary life annually, and the onus in Mollywood is originality.
About This Page
People looking for online information on Vijay Sethupathi,Jayaram,Sukrutha will find this news story useful.