Shabaash Mithu Movie Review
(2022)
Srijit Mukherji's 'Shabaash Mithu', starring Taapsee Pannu, is a not-bad biopic that has its moments
Release Date :
15-07-2022
Movie Run Time :
2:36 Hrs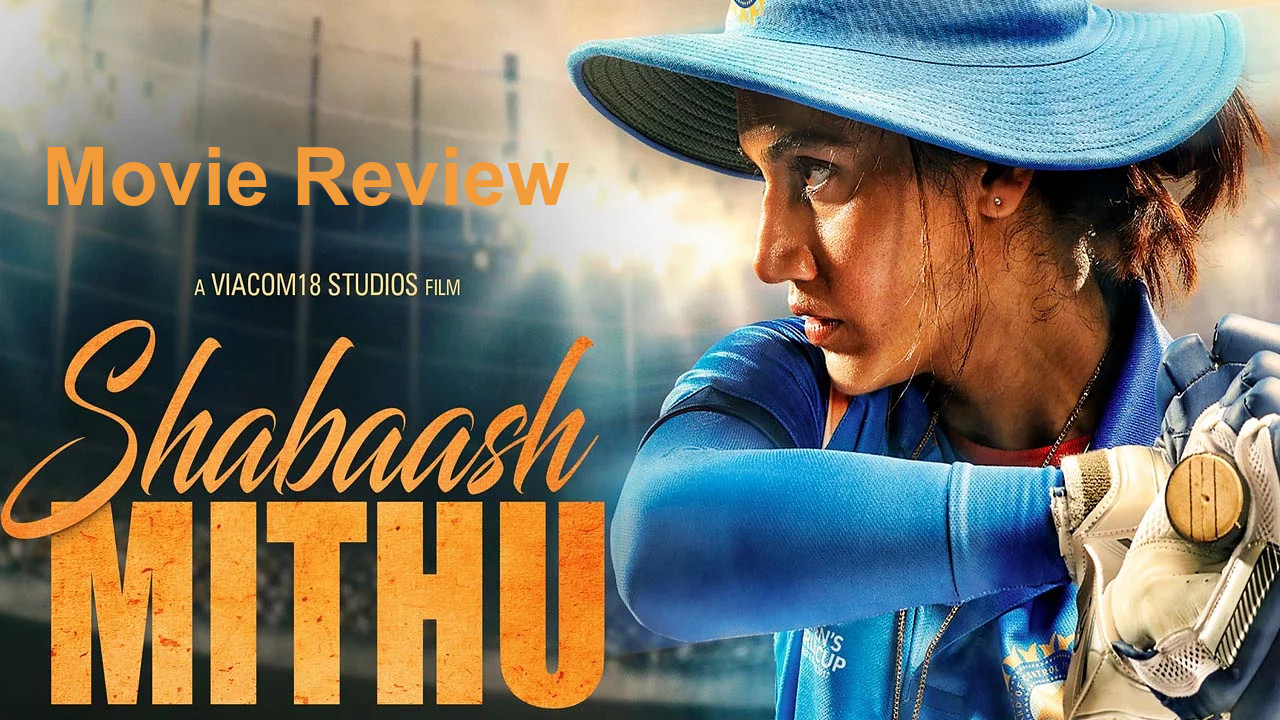 Shabaash Mithu Movie Cast & Crew
Production :
Viacom18 Studios,Colosceum Media
The story of a woman who experiences so many downs in life and compensates with so many ups while playing should have been more unique.
Quick, name five women cricketers! This question is put to a cricket-crazy common man in an early scene in Srijit Mukherji's Shabaash Mithu – but it could be addressed to any one of us. This lack of identity, this lack of recognition is the centre of Priya Aven's screenplay. "Hum bhi to India ke liye khelte hain," Mithali Raj says. We play for India, too. You feel her frustration, especially given how celebrated male cricketers are. The other issue is sexism/patriarchy. At a press conference, a journalist asks Mithali who her favourite male cricketer is. She asks if he would ask a male cricketer a similar question about a favourite female cricketer. Plus, there are various physical and social aspects – like menstruation, or marriage pressure – that make a sporting career so much more difficult for an Indian woman. But that's what makes success so much sweeter. The opening credits play over a montage of boys and men playing cricket. At the end, Mithali is surrounded by a sea of little girls who wear white uniforms and who want to be her.
Mithali Raj is the former Test and ODI captain of the women's national cricket team. She led India to the finals of the 2017 Women's Cricket World Cup. But what was she like as a person? This comes through beautifully in the film's early portions. There is a clever bit of misdirection that has a terrific payoff – that even the most rebellious of girls can end up getting "tamed" by society. As a girl, Mithali is hardly a rebel – but the first time we see a glint of determination in her eyes is when she is challenged by a group of boys to play cricket. In other words, even as a child, this matter of gender kept bothering her. As Mithali, Taapsee Pannu gives a committed, internalised performance. Her look is mostly tentative. She hardly has any lines to speak. You keep waiting for her to explode with emotion – but this happens more often on the ground, where Mithali is a natural and most at home.
The first half is surprisingly good. I use the word"surprising" because the biopic is one of the most cliched of genres, and even if the individuals are hugely different in who they are and what their achievements are, their narrative arcs are very similar. Shabaash Mithu finds interesting, inventive ways to work around this limitation. Sometimes, we get poetic visuals, like a solitary sneaker surrounded by cricket balls or a scene that involves a pair of scissors. Sometimes, we get sharply written scenes like the one after Mithali's best friend leaves. And sometimes, we get big cinematic flourishes, like the one where we see underprivileged women cricketers appear to play the game while still in their humble backgrounds, even though they are actually playing on a pitch.
But even with all this, we get quite a bit of overstatement. Mithali's brother may have resented her success, but because he disappears soon after, we know little about the siblings. The overstatement becomes worse at the Women's Cricket Board, where the scenes of Mithali's treatment resemble a prison drama where the veterans group up to torture the newbie. Wasn't there a single senior player who was curious about Mithali or tried to welcome her? The second half is much more generic, and much more hastily told. We get a full-fledged song where Mithali mopes around, but we don't really get into her headspace. The story of a woman who experiences so many downs in life and compensates with so many ups while playing should have been more unique.
Still, the film works to an extent. Vijay Raaz is wonderful as Mithali's coach. He made me wish I had a life coach like him. The female cricketers and indeed, most other characters are cast well – except the painfully one-note men who dismiss the women's team. A scene involving a man at a bar is a particular low point. There are many writerly touches, like how the word chamak (shine) is used both in the context of a girl's name and as an indicator of fame. And even the big locker-room speech before the World Cup loops back to the beginning. It has Mithali talking about being remembered. That's what the film has been about all along – being unrecognised and unremembered despite a number achievements. You could say the same about our biopics. Many of them come along, and you can see the effort - but they end up unrecognised and unremembered. The challenge of making a truly memorable biopic may be greater than anything Mithali Raj faced.
About Author
Baradwaj Rangan
National Award-winning film critic Baradwaj Rangan, former deputy editor of The Hindu and senior editor of Film Companion, has carved a niche for himself over the years as a powerful voice in cinema, especially the Tamil film industry, with his reviews of films. While he was pursuing his chemical engineering degree, he was fascinated with the writing and analysis of world cinema by American critics. Baradwaj completed his Master's degree in Advertising and Public Relations through scholarship. His first review was for the Hindi film Dum, published on January 30, 2003, in the Madras Plus supplement of The Economic Times. He then started critiquing Tamil films in 2014 and did a review on the film Subramaniapuram, while also debuting as a writer in the unreleased rom-com Kadhal 2 Kalyanam. Furthermore, Baradwaj has authored two books - Conversations with Mani Ratnam, 2012, and A Journey Through Indian Cinema, 2014. In 2017, he joined Film Companion South and continued to show his prowess in critiquing for the next five years garnering a wide viewership and a fan following of his own before announcing to be a part of Galatta Media in March 2022.
User Review