Release Date :
22-04-2022
Movie Run Time :
2.50 Hrs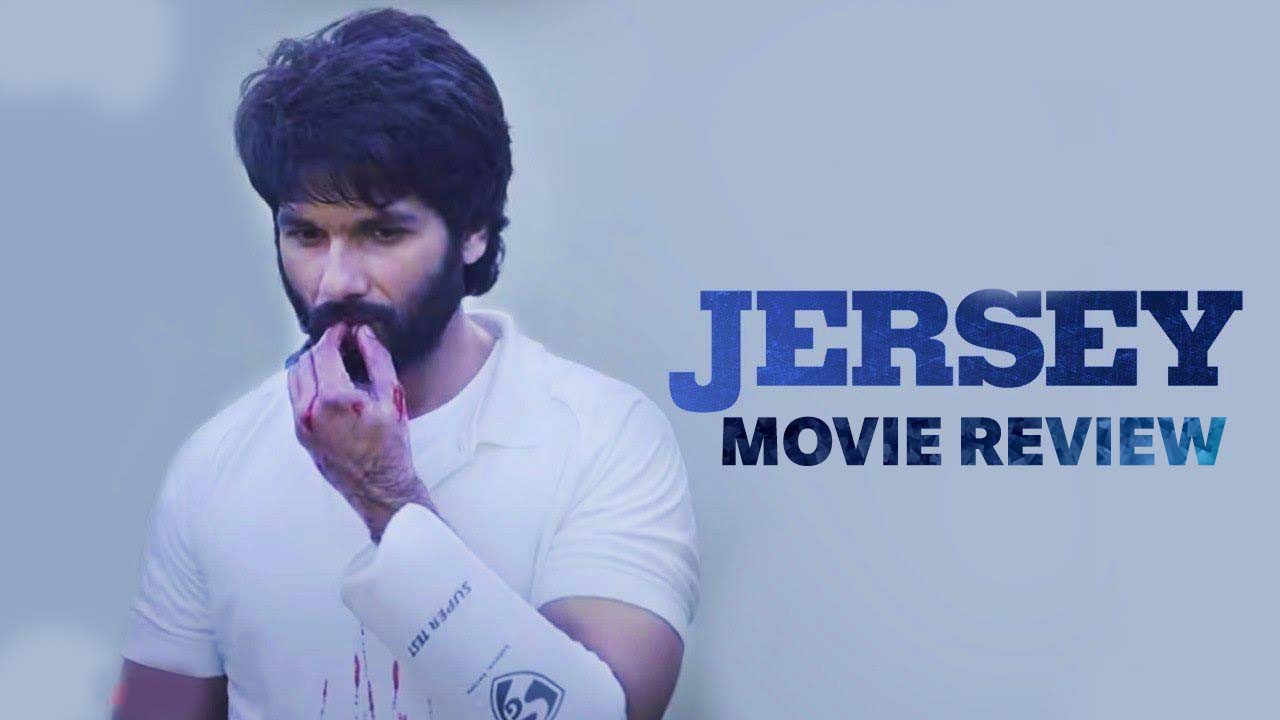 Jersey Movie Cast & Crew
Production :
Allu Entertainment,Brat Films,Dil Raju Production
Gowtam Tinnanuri has remade his Nani-starrer Jersey with Shahid Kapoor. The story is about a 36-year-old former cricketer named Arjun Talwar (that's the Shahid character), who was once "the best batsman of his time", which was the mid-1980s. He lives with his wife Vidya (Mrunal Thakur) and son, and things are not going well in the household. He has been sacked from the government job he took up after deciding to give up cricket. The wife is the sole provider, and Arjun sits around at home, smoking and drinking beer. Is he feeling sorry for himself? Partly yes. But he is also one of those people who have given up their great passion and talent and settled for less. We hear that the only time he was really happy was when he was playing cricket. What about his wife, then? Does she not give him "real happiness"? Does he not share his feelings with her? Theirs is a love marriage, after all. Is there any love left in this marriage now?
You won't find incisive, convincing answers to these questions because Jersey is content to exist in broad strokes. To give you an analogy, take the charity match where Arjun plays for the first time after his self-imposed retirement. You'd think he'd be a bit rusty after 10 years – but no. Every ball is hit for a four or a six. It's a relief when subsequent matches show him taking the odd single. Jersey is like Arjun. Every scene gets its points across in the form of a four or a six, instead of working harder and making singles – that is, by going step by step instead of leaps and bounds.
There's a lot of generic writing. The opening scene in a bookshop made me wince. It's the kind of framing device we saw as long back as in Anand, where Amitabh Bachchan has written a book about Rajesh Khanna and the film takes off from the book award function. Here, the same type of opening looks silly. But it's a sixer. It gets the story going in one big shot instead of building to the book in a series of singles. Or take Arjun's cockiness. We see traces of it, but not consistently. That's a four. A character trait is established in one big shot instead of being laid out in a series of singles. Given that the film goes on for almost three hours, surely some time could have been taken for more minute psychological detailing! Surely not everything needed to be said through dialogues! Surely at least some of the bland music-montage sequences could have been turned into powerful dramatic scenes!
But I think Gowtam Tinnanuri's approach might take the film to more people, who may not want to see a dark and depressing drama about a loser-hero. Jersey is an easy and pleasant drama about a loser-hero. Arjun begins to play again when his son makes a request, and the rest is a predictable underdog story. Quite a few scenes work, and I kept tearing up. But these are manipulated tears. These tears would have felt more earned if we had really gone into Arjun's headspace and Vidya's headspace. There's a superb scene where she accuses him of giving up easily and walking away instead of tackling a difficult situation. It applies to Arjun's cricket and his job, but the point at which this line comes is during a domestic moment that is a low point even for Arjun. That's the kind of writing Jersey could have used more of.
But that line is what makes the twist at the end feel like a cheat. Run the film through your head again with that twist in mind, and a lot of Arjun's behaviour will seem written to "trick" the audience – and not in a very organic manner either. Also, some of us may wonder what use relationships are if we hide the most important things in our lives from our partners. Or at least, give us a reason for this hiding. But that would mean taking more singles, and this film is all about fours and sixes.
The best scenes are the ones between Arjun and his coach, played by Pankaj Kapur. Here's where we get the singles, the hard work, the specifics. When Arjun says he left the game, the coach says, "Chhoda nahin… bhaaga!" (You didn't leave the game. You ran away from it.) The real-life father-son dynamic translates beautifully on screen. Pankaj Kapur gives a wonderfully warm performance, but this is - of course - Shahid's show. It is one of his finest performances. He underplays every moment and adds a few more shades to the character than the screenplay does. Jersey made me recall Barry Levinson's The Natural, where Robert Redford played a mid-30s baseball genius who attempts a comeback. There, too, a son plays a major part. That film made the man a myth, while Jersey - thanks to Shahid - keeps the character life-sized. His character may be going for the fours and sixes, but the actor works hard. He goes for the singles.
About Author
Baradwaj Rangan
National Award-winning film critic Baradwaj Rangan, former deputy editor of The Hindu and senior editor of Film Companion, has carved a niche for himself over the years as a powerful voice in cinema, especially the Tamil film industry, with his reviews of films. While he was pursuing his chemical engineering degree, he was fascinated with the writing and analysis of world cinema by American critics. Baradwaj completed his Master's degree in Advertising and Public Relations through scholarship. His first review was for the Hindi film Dum, published on January 30, 2003, in the Madras Plus supplement of The Economic Times. He then started critiquing Tamil films in 2014 and did a review on the film Subramaniapuram, while also debuting as a writer in the unreleased rom-com Kadhal 2 Kalyanam. Furthermore, Baradwaj has authored two books - Conversations with Mani Ratnam, 2012, and A Journey Through Indian Cinema, 2014. In 2017, he joined Film Companion South and continued to show his prowess in critiquing for the next five years garnering a wide viewership and a fan following of his own before announcing to be a part of Galatta Media in March 2022.
User Review