Kangana's Whats App Messages Are Complete Lies - Manikarnika Director Shares Screenshots!
By Lokesh RV | Galatta |

January 30, 2019 19:00 PM IST
Manikarnika: The Queen of Jhansi, the epic biographical period drama film based on the life of the Rani Laxmibai of Jhansi has Kangana Ranaut as the main lead and is produced by Zee Studios in association with Kamal Jain and Nishant Pitti. The movie hit the theaters on January 25 and opened up to some decent reviews.
Apart from the release and reviews, Manikarnika has been in the headlines for other reasons as well. The row took shape after the film's co-director Krish Jagarlmudi came out stating that Kangana Ranaut was the real reason for his exit from the project in the middle of production and also contesting Kangana's claim as the film's primary director.
Kangana's sister Rangoli Chandel shared the screenshots of the messages which was sent by Kangana to Krish Jagarlmudi asking him to see the venture before the release and also Kangana's messages to one of the writers Vijayendra Prasadh speaking for Krish.
Rangoli Chandel tweeted, "Here is the proof kangana clearly asked u to come & see the film on 6th December, would u please explain this .... ??"
About speaking to Vijayendra Prasad, she tweeted, "This is for all my friends to see here's Kangana's messages to Vijendra Prasad on October 4th, not only she fought for his credit even begged him to be a part of the team...."
Following Rangoli Chandal's tweet, Krish came out with his own explanation and shared the screenshot of the messages from the technicians and other members stating that 85% of the movie was shot by him.
Krish tweeted, "I never thought I've to defend my ability of film making based on the manipulations and lies of one person. @Rangoli_A these messages were ur sister's words about me ehen I've questioned her about the credit and the damage she is doing to the movie."
"@Rangoli_A Let me just add few messages to I've from the 50 odd I've recieved from the team (actors n techinicians) who worked with me n Kangana n the people who saw both the version"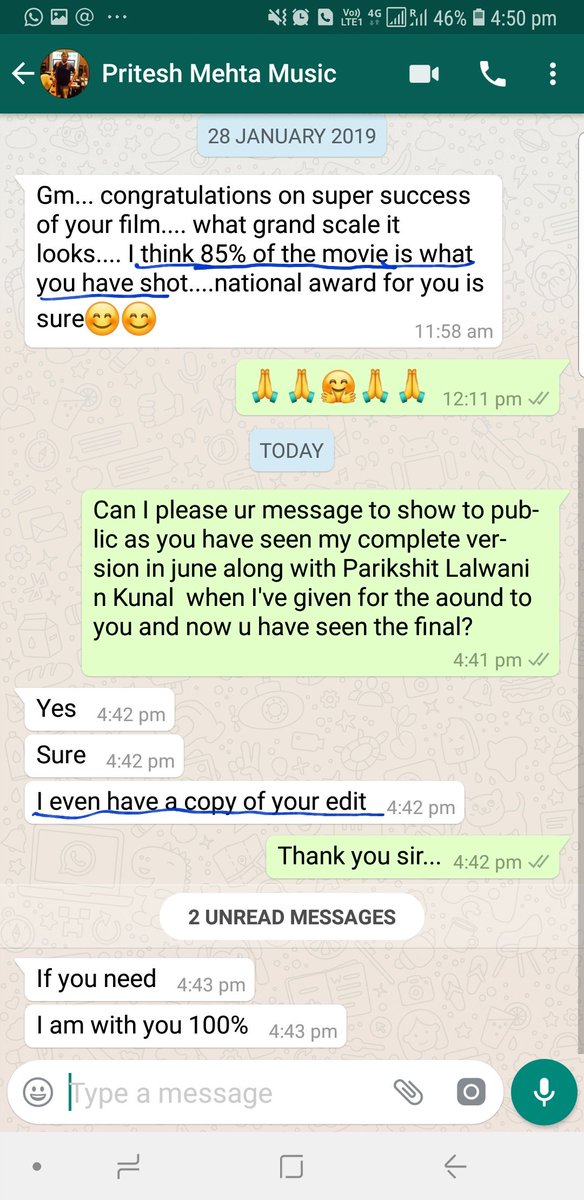 "The person who saw both d versions mentioned that Ive done 85% n now the techinican who worked on ground told this."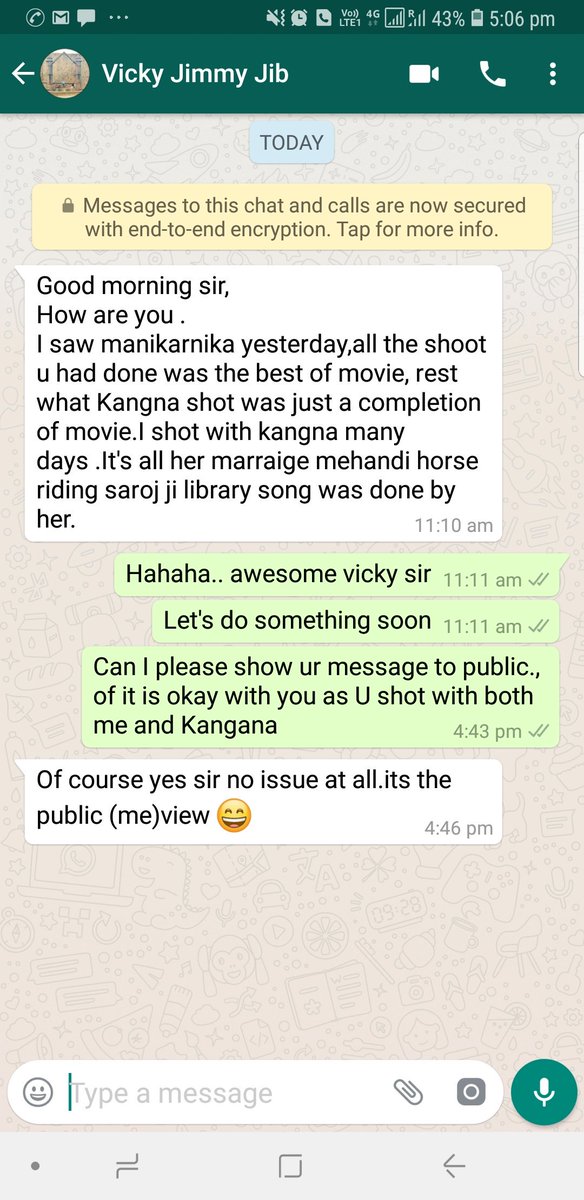 @Rangoli_A and these r just few from my team.. pic.twitter.com/mchmphoFhM

— Krish Jagarlamudi (@DirKrish) January 30, 2019
@Rangoli_A Few simple question., why my screen name has changed from Krish Jagarlamudi to Krish to Radha Krishna Jagarlamudi... Its beyond my imagination that somebody can thing this far to malign someone
N why she added her name in the month of decmeber

— Krish Jagarlamudi (@DirKrish) January 30, 2019
@Rangoli_A and these r our Production designers Sujith n Sri Ram pic.twitter.com/EtqYnk2anu

— Krish Jagarlamudi (@DirKrish) January 30, 2019
I'm confidently saying that everything Kangana has written on those whats app messages when I've questioned her, are complete lies and pre prepared, as she has foreseen that this day will come.

— Krish Jagarlamudi (@DirKrish) January 30, 2019
This is from the editor who edited n later replaced.. the question is not about who shot how much., but its about proceess which everything has been done with ulterior motive n with a poor taste. Pls realise ur lies r making things worse pic.twitter.com/QeA5aCDWtS

— Krish Jagarlamudi (@DirKrish) January 30, 2019
These r the future film makers I came out n spoke for, so that they wont face these humiliations.. pic.twitter.com/YV4YoAmrYm

— Krish Jagarlamudi (@DirKrish) January 30, 2019