Show cause notice to Telegraph over headline: Centre out to test gutsy newspaper's spine
Galatta |
Mar 18, 2020, 02:55 pm
Chennai: Days after two Malayalam channels were taken off-air by the Information and broadcasting ministry, the Telegraph India, one of the most outspoken and transparent media houses today, has been given a show-cause notice by the Press Council of India.
According to sources, Telegraph India has been creating a veritable storm ever since the beginning of Anti-CAA protests. The paper has been noted for hard-hitting and sarcastic headlines that call out government failings.
On Tuesday, the paper was published with the headline, "Kovind, not COVID, did it." The heading was an obvious jab at former Chief Justice of India, Ranjan Gogoi, submitting nominations to the Rajya Sabha. President Ram Nath Kovind had nominated Gogoi to the Upper House of Parliament on Monday.
The article went on to call Gogoi the 'Rafale-Ayodhya' judge and goes on to note how he was caught in a sexual abuse case while in office.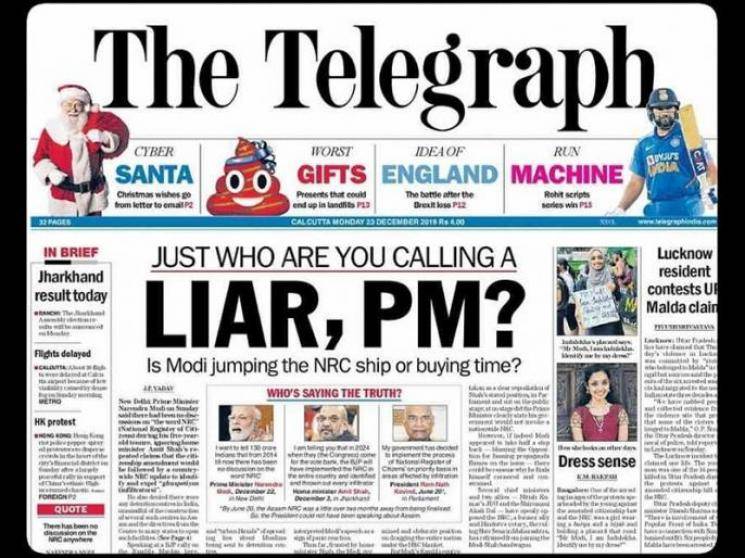 The telegraph is known for bold headlines that call spade a spade, and over the years they have kept the tradition alive in the Indian edition. They once called Narendra Modi 'the accidental tourist' in the headline, and the headline on the day after the shooting in Jamia read 'Hey Rambhakt' in a hard-hitting wordplay.