Meet the first transgender nurse in Tamil Nadu, Anbu Ruby
In a state function held on Monday, the first transgender staff nurse to be appointed in Tamil Nadu, Anbu Ruby, took her order of appointment from chief minister Edappadi K Palaniswami along with 5,224 new recruits. This comes mere months after a Madras High Court ruling allowed Rashika Raj - also a Tamilian - to become the first registered transgender nurse in the country.
Though a registered nurse-midwife, Rashika Raj had encountered several problems after choosing her career path. The primary problem was that the Tamil Nadu Nurses and Midwives Council did not have a 'transgender' option until a month ago. on October 17 this year, the Madras HC directed the body to consider making a statutory amendment to allow transgender persons to enroll as nurses.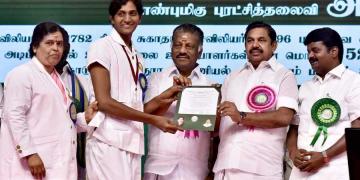 Ruby, a resident of Servaikaranmadam village in Thoothukudi, completed her BSc Nursing at Sardar Raja Nursing College in Tirunelveli. She also has an MBA in Hospital Management - a course she completed through distance education this year. Ruby had enrolled as a 'male' and changed her certificates after undergoing the sex reassignment surgery this year. Ruby has been recruited through Medical Recruitment Board (MRB) on consolidated pay and will be made a regular employee in two years, according to sources. She will begin as a staff nurse at a Primary Health Centre in Tiruchy, but hopes to get a transfer to Thoothukudi as she has to take care of her elderly mother.
According to ANI, Ruby comes from a modest background and has seen her share of discrimination. Her father, who had lost his eyesight when Ruby was a child, had supported her education till his death. Since then, Ruby's mother had supported the family by selling banana leaves. Ruby will be joining a PHC in Thirunelveli.