Galatta |
Feb 12, 2020, 02:19 pm
Delhi: The decisive victory that the Aam Aadmi Party has had, has been hailed by almost every chief minister in the nation, not to mention the number of congressmen and celebrities tweeting out to congratulate party leader Arvind Kejriwal exuberantly. Even Prime Minister Narendra Modi, who had during the election campaign accused Kejriwal of offering 'freebie', congratulated the man after the landslide victory.
Thank u so much sir. I look forward to working closely wid Centre to make our capital city into a truly world class city. https://t.co/IACEVA091c

— Arvind Kejriwal (@ArvindKejriwal) February 11, 2020
When the Delhi election results were announced on Tuesday evening, the Aam Aadmi Party had won seats and the BJP, which had brought in UP chief minister Yogi Adithyanath for the campaign, had bagged only 8 seats.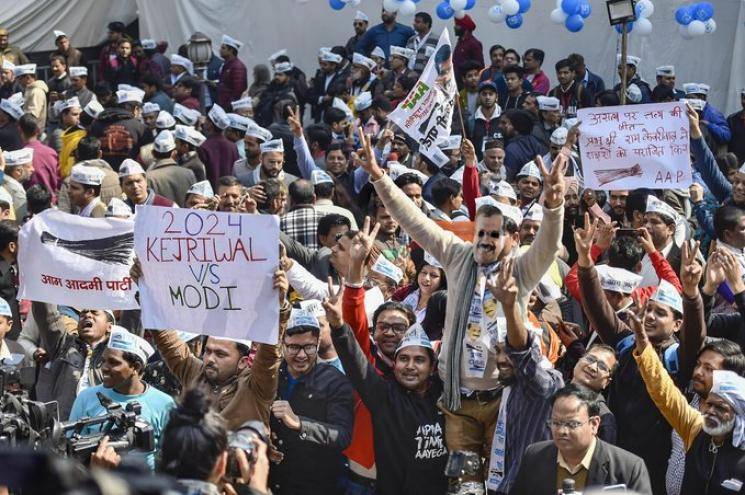 Congress had a poor show and will spend this tenure without owning a single seat in the national capital. In most places, the fight was only between the BJP and the AAP. Delhi Congress chief Subhash Chopra reportedly resigned soon after the defeat was announced. Many congressmen, like P Chidambaram and Jyotiraditya Scindia, have forgone the bitterness to congratulate the AAP on having won.
Delhi: A meeting of newly-elected AAP MLAs was held at the residence of AAP chief & CM-designate Arvind Kejriwal today. He was elected as the leader of the legislative party during the meeting. He will take oath as the CM on 16th February. pic.twitter.com/X15NOVKy1O

— ANI (@ANI) February 12, 2020
Arvind Kejriwal and his cabinet will take oath on February 16, according to Manish Sisodia. Arvind Kejriwal has been the chief minister-designate of the party since the beginning, but AAP also has many other aspects to boast on. For one thing, AAP won all the 12 seats reserved for SC candidates. The AAP was also the only party to field 9 women as candidates. Hearteningly, 8 of these 9 women won. The Delhi Legislative Assembly, for the first time, will have 16 first time MLAs, and the feat is a credit not just to the AAP party, but for the Assembly in itself. Kejriwal also chaired a closed-door meeting to chalk out the next steps. He will also meet Delhi LG Anil Bajaj on Wednesday.