Galatta |
Feb 01, 2020, 06:52 pm
Chennai: Even as activists accuse Chennai police of making excuses to turn down permission requests, the Greater Chennai Police has obtained a ban on all kinds of meetings including human chains till February 12. The Chennai police may again obtain a ban for another couple of weeks after this period is over.
A circular to this regard, sent by Commissioner of police AK Vishwanathan, prohibits the protests as it may result in 'obstruction to the free flow of traffic, inconvenience to the movement of public/VIPs and disrupting law and order in the area'.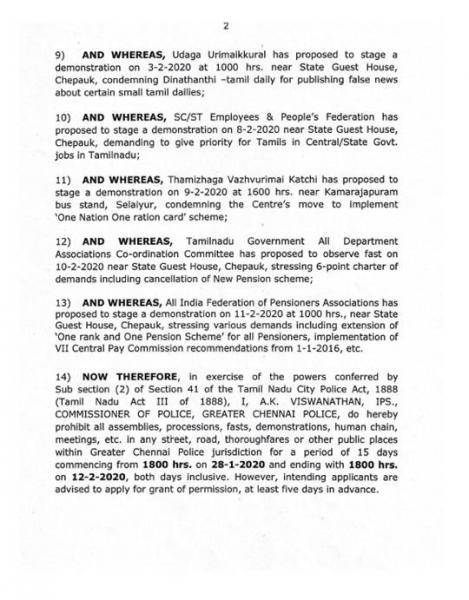 The circular goes on to list several events that were being planned but were not given permission. None of the listed protests were conceived by people hoping to protest against the Citizenship Amendment Act. Interestingly, the first two protests to be named in the list are in support of CAA.
The national bank strike, a demonstration by college teachers and another demonstration seeking a permit to sell toddy also made the ban-list.
The Chennai police have been accused of breaking up peaceful protests at Valluvarkottam when activists meet to have a demonstration against the CAA. However, the police have maintained that this was in the better interest of the public. As it is, Chennai is a city with minimal unrest, opined some.