Over 17 killed in rains, schools closed even before December begins
Chennai - Tamil Nadu in total - is looking at a pretty bleak month ahead, what with the first rains of the month spreading misery and suffering all around the state. There are reasons to rejoice, though, as the initial spells alone have helped fill 36% of the waterbodies in Chennai. Temperature levels have dropped to 24-28 degree-Celcius, and at the rain is averaging at 10-12 cm around the city.
While rains in the catchment areas in Chennai were recieved well, the suburbs are already underwater, with a man dying in a freak accident near Ambattur. The 46-year-old man was walking back on the Chennai-Tiruvallur highway when he fell into a culvert. Schools and colleges in Tamil Nadu and Puducherry were given a holiday on Monday owing to the rains, and the Anna University and Madras University postponed examinations scheduled for Monday.
Tragedy struck in Mettupalayam, Coimbatore, with around 15 people dying in a wall collapse. Chief Minister Edappadi K Palaniswami has announced a solatium of 4 lakh for the kin of the deceased. The neighbouring state of Kerala seems to be ready to help in any eventuality, with chief minister Pinarayi Vijayan even tweeting his condolences after the Coimbatore wall collapse.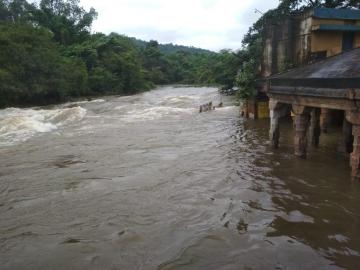 In Erode, there is a flood warning, what with River Bhavani swelling to thrice its usual size. With the water level in the Lower Bhavani Project reservoir reaching its maximum of 105 feet, the Public Works Department increased its discharge from 3,500 cusecs to 11,950 cusecs on Monday morning.
There have been six deaths in Thoothukudi till Monday and there have been several incidents of minor accidents. The Central Water Commission has warned that River Thamirabharani will overflow if the rains continue. Stalin is in Cuddalore, taking stock of the situation there, even as the DMK and AIADMK politicians begin touring the affected areas. Fishermen have been advised to stay ashore at Kanyakumari, Maldives, and Lakshadweep.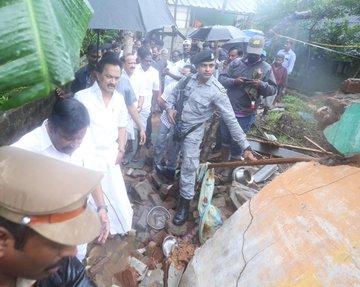 Meanwhile, the Chennai Corporation has launched a helpline number to report flooding, stagnation and other monsoon-related issues. The corporation may be reached at landline numbers: 044-25384520, 044-25384530, 044-25384540 or the WhatsApp number 9445477205. , Chennai Corporation has made rescue boats available in 109 locations. 178 community halls are ready to accommodate people and food, drinking water will be provided from Amma Canteens and Amma Kudineer.