Prime Minister Modi makes surprise visit to Ladakh & addresses soldiers along LAC!
Tensions began rising in the Galwan Valley region of the Indo-China border when the armed forces of both the countries indulged in skirmishes. This led to loss of lives on both sides but the tensions began running high. However, things have sobered up a bit after multiple rounds of talks on various levels between India and China. However, the countries have been shoring up their defences and bringing the troops to war readiness and amping the firepower along all bases near the border. In what came as a sudden surprise, the Indian Prime Minister Narendra Modi arrived in a quiet visit to Ladakh, earlier today!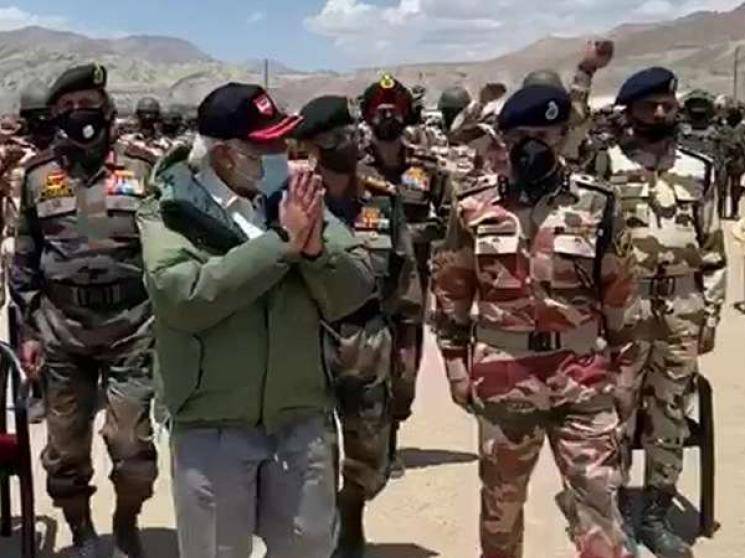 PM Modi was accompanied by Chief of Defence Staff General Bipin Rawat and the Army Chief General MM Naravane, as they were flown by a chopper to Nimu, which is located 11,000 feet above sea level, in the Himalayas! On this surprise visit to a forward Indian post, Modi addressed the troops and felicitated their bravery! He mentioned that the stories of their bravery were being shared in every corner of our country and that, "the enemy has seen your fire & fury as well!" Modi referred to the violent clash between the Indian & Chinese soldiers on June 15th in the Galwan Valley and paid rich tributes to the martyred soldiers!
Lauding the efforts of the soldiers on the border along the Line of Actual Control (LAC), Modi said, "You have given a befitting reply to people who attempted to conquer us!" In what is seen as a direct message to China, PM Modi stated that India has always chosen the path of peace but also reiterated that the weak can never initiate steps for peace. He said, "Bravery & courage are the basic requirements for peace!" Not directly naming China, PM Modi also mentioned that times are changing and there was no place for any country to expand and that this is the time for development and not expansion! This visit by PM Modi was kept a secret till the last minute and became public only after he landed at the Leh airport today morning! The PM also interacted with the soldiers at the base and gave them pep talks before delivering his address!