Opposition walks into Assembly with bloody clothes; KSU Kerala education bandh a success
The Kerala state bandh called by congress student wing Kerala Students Union (KSU) has largely remained peaceful with occasional spats reported.
The KSU had called for a state bandh on Wednesday after the march they had taken to the legislative Assembly on Tuesday had been violently stopped by the cops. Videos of the police hitting even students who were trying to escape, and the cops dragging students who were sitting on the side of the road had surfaced online shortly after the incident had transpired. MLA Shafi Parambil and KSU State president K.M. Abhijith were both injured in the lathi charge.
The students also later began throwing stones at the cops, worsening the situation further. The students were seeking free investigation in the Walayar minor rape and death case and also the alleged tampering of marks in the Kerala University. They were also seeking the resignation of minister K.T. Jaleel in connection with the marks tampering case.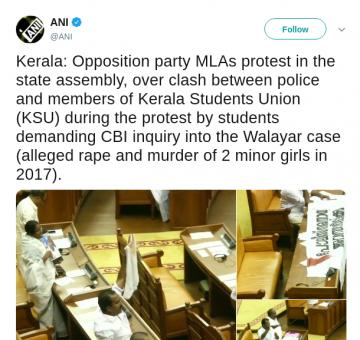 Meanwhile, the congressmen who attended the Assembly on Wednesday walked in with the bloodied clothes from the march. They drew attention to the video of the policemen targeting both MLA Shafi and the student wing president Abhijit, the latter being attacked even after he had fallen on the road, injured. Water cannons being used made the protesters pelt stones, following which the police resorted to using tear gas. The protesting Opposition called the police action high-handed and accused the government of being dictatorial. Some even climbed on the tables, raising slogans, and some walked into the well after which the Speaker left his chair.