By

Vivek Raj

| Galatta |

Jun 30, 2020, 11:35 am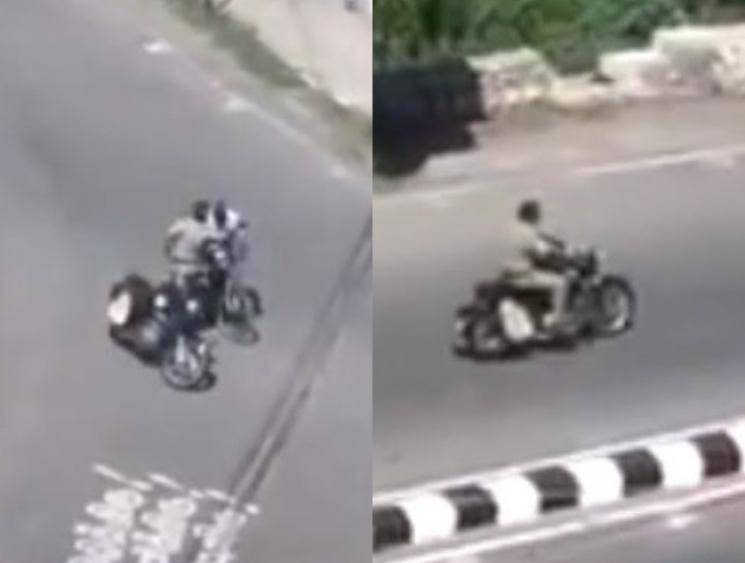 A video of an old man on a bicycle getting slapped by a policeman on a motorbike in Trichy has gone viral on social media. The footage shot near the Trichy Court at the Cantonment Road and the MGR Road Roundtana areas shows an elderly man on a cycle stopping by the Ayyappan Temple after a policeman too en route on the same road collides against him.
The video shot from a rooftop at quite a distance shows the old man on the cycle apparently questioning the policeman, who then gets down from his motorbike and attacks the elderly person by slapping him on his face. The video has since gone on to be shared vastly by many on Facebook, Twitter and WhatsApp amid a wave of criticism over the policeman's actions.
Incidents of police brutality and abuse have been a subject of debate across the nation after the death of father and son, Jayaraj and J. Benicks, in Sathankulam town in Tamil Nadu, allegedly due to police torture in custody. Tamil Nadu government had on Monday ordered for the case to be transferred to the CBI after both father and son found dead in Kovilpatti Jail evoked massive outrage. Mr. Jayaraj and Mr. Benicks from Sathankulam got involved in an argument with police officials for keeping their shop open beyond permitted hours as per the lockdown guidelines. Tamil Nadu Traders Association too had shut down their shops last Wednesday protesting against the deaths of the father and son.
The video of the policeman in Trichy assaulting an elderly man has come at a time when tensions are high across the state over the death of Jayaraj and Benicks and only adds fuel to the already raging wildfire. There is already a disdain for the police among many in the public, which has been observed extensively over the past few days after reactions on social media poured against them over the treatment meted out to the father and son, who were killed while in custody. Watch the video below: