Tamil Nadu university exams 2020: All promoted without exams, except final year students
By

Vivek Raj

| Galatta |

Jul 23, 2020, 11:15 am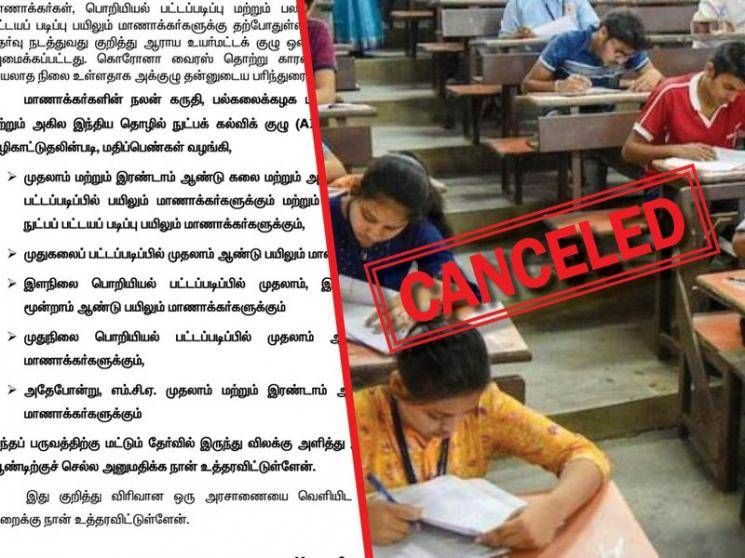 Tamil Nadu Chief Minister Edappadi K. Palaniswami on Thursday announced that the university semester exams in the state have been cancelled. The government has arrived at the decision after recommendations received from a high-level committee. As per the proposal of the committee, the university intermediate semester exams at various colleges including those of the polytechnic institutes stand to be cancelled. Marks will be granted to the students based on the guidelines of the University Grants Commission (UGC) and All India Council for Technical Education (AICTE).
The decision to cancel the exams has been arrived at in view of the coronavirus pandemic, which has so far left more than 1,80,000 people infected, with 2,700 deaths linked to the disease in the state. Below is the list including the details of the exams and subjects that have been cancelled. These students will be promoted without any exams.
Exams for 1st and 2nd year UG students and 1st year PG students in the Arts and Science streams stand cancelled in all colleges in the state and they have been promoted. It is a similar scenario for students in the Engineering stream as well since students of 1st, 2nd and 3rd year in their UG courses have been granted promotion. First year students pursuing PG in Engineering have also been promoted.
The exams have also been called off for all the 1st and 2nd-year students in the state's polytechnic colleges as well and they have been granted promotion without the need to sit for any exams. Likewise, first and second year students pursuing MCA degree will not have to sit for their exams and they will be judged based on their internal exams or the project work, as suggested by the UGC and AICTE in their guidelines.
The University Grants Commission had recently revised its rules in regard to the exams to be held by varieties across India. Among them, varieties were given a liberty in regard to awarding marks to the students enrolled in various courses. The AICTE had suggested all its affiliated colleges to follow the recommendations under the IGC guidelines. Complete information on the process of awarding marks to the students will be provided by the colleges soon.
Below is the order for the cancellation of exams issued by the Tamil Nadu Chief Minister Edappadi K. Palaniswami: