TN govt renames three Chennai Metro stations after Anna, MGR and Jayalalithaa
By

Vivek Raj

| Galatta |

Jul 31, 2020, 11:24 am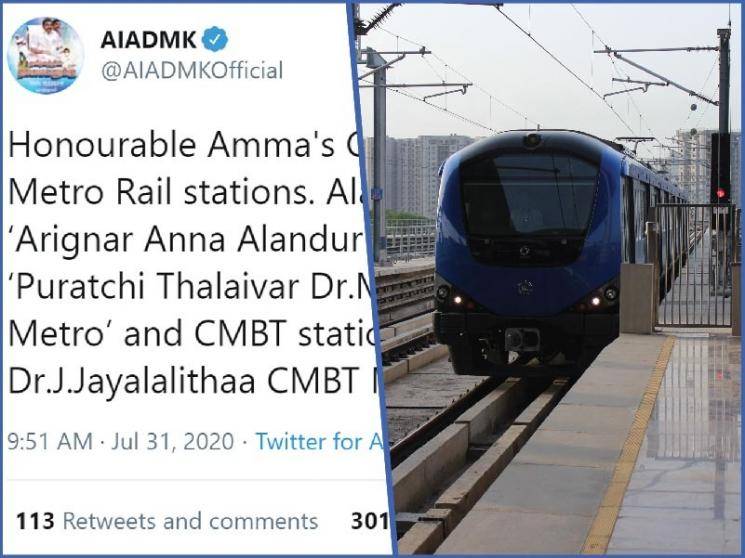 The Tamil Nadu government on Friday announced that an order has been passed to rename three Chennai Metro railway stations after three late Chief Ministers of the State - C.N. Annadurai, M.G. Ramachandran and J. Jayalalithaa. Moving forward, the Metro railway stations at Alandur, Central and CMBT will be called as Arignar Anna Alandur Metro, Puratchi Thalaivar Dr. M.G. Ramachandran Central Metro and Puratchi Thalaivi Dr. J. Jayalalithaa CMBT Metro, respectively.
Honourable Amma's Government renames 3 Chennai Metro Rail stations. Alandur station will be called 'Arignar Anna Alandur Metro', Central Metro station as 'Puratchi Thalaivar Dr.M.G.Ramachandran Central Metro' and CMBT station as 'Puratchi Thalaivi Dr.J.Jayalalithaa CMBT Metro'.

— AIADMK (@AIADMKOfficial) July 31, 2020
Chief Minister Edappadi K. Palaniswami in a statement said the decision to rename the Metro stations has been taken upon guidance by a high-level committee. He added that the committee recommended the stations to be renamed after the three former Chief Ministers as they are distinguished and important ones in Phase I of the Chennai Metro Rail Project (CMRL). He also spoke about the various steps taken forward over the years by the AIADMK government under former CM Jayalalithaa and him in accomplishing the metro rail project into a reality.
In the meantime, CMRL officials released a statement on missing out on the July deadline to complete works on the nine-kilometre metro rail line in north Chennai from Old Washermanpet to Wimco Nagar due to the coronavirus pandemic. The work has taken a severe hit as important equipment for the rail could not be imported from other countries with officials saying the new deadline would be around early 2021. They state the line will be in operation by then, which will connect the areas in north Chennai to other major parts of the city while also fastening the commute time.
Furthermore, the tender process for the tunneling work for the Madhavaram and Taramani line as well has been delayed, CMRL officials said. The decision to extend the tender submission dates has been taken due to the COVID-19 outbreak. It is to be noted that the Japan International Cooperation Agency (JICA) is funding the 118 km phase 2 line.