All you should know of Nandasena Gotabaya Rajapaksha, the new president of Sri Lanka
Galatta |
Nov 21, 2019, 03:01 pm
Gotabaya Rajapaksha is best known for essentially ending the Sri Lankan civil war in 2009, in one the bloodiest battle the island nation had seen since the beginning of the civil war. He was the secretary to the Ministry of Defence and Urban Development under the regime of his elder brother Mahinda Rajapaksha and had led the Sri Lankan Armed Forces when they routed out the Tamil Elam movement with military action.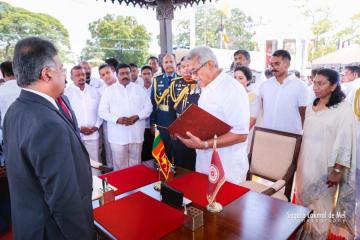 Over 40,000 civilians and a number of Army personnel were killed, while several hundred civilians and LTTE cadres disappeared. The reports of "white flag incidents" in which surrendered LTTE men were allegedly killed, and "white van incidents" in which Tamils and rebels were allegedly kidnapped by government-backed private militia arose during this time. When he was asked if he could sleep in peace after the amount of human life lost during an interview, he had replied: "It is not only soldiers but innocent people too died due to terrorism... I do not regret. I used to sleep every day during the war too." Gotabaya had also belittled the inhuman war crimes attributed to him, saying 'it was time to forget and move on.'
It also should be noted that Rajapaksha comes to power at a time when tension is also on the rise: there have been terrorist attacks in the island nation - called the Easter attacks - the credit for which has been claimed by the Islamic State (ISIS). The Sinhala-Buddhist majority has been routing for Gotabaya, who in his first presidential address promised to "consider the foremost responsibility of my government is to ensure the national security of my country. We will rebuild the state security machineries to secure the country from terrorism, underworld activities, robbers, extortionists."
Gotabala also took his oath at a historically and politically significant spot: at the Ruwanwelisaya stupa in Anuradhapura, which house the largest collection of relics of Gautama Buddha. He also has the open support of Buddhist extremist groups accused of promoting anti-muslim sentiments recently.