Hunger strike at Jantar Mantar; #HangRapists trends for third day as public thirsts for stronger law
The protests and call for action following the rape and murder of Hyderabad veterinarian Priyanka Reddy have reached a peak, what with the Twitterati keeping the hashtag, #HangRapists, high on the India trending ranking for the third consecutive day.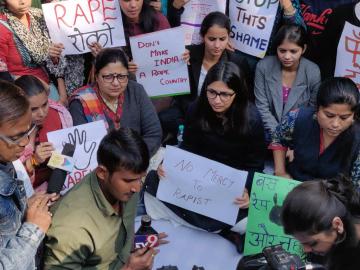 Meanwhile, Delhi Commission for Women chairperson Swati Maliwal announced that she will sit in hunger strike at the Jantar Mantar till the government gives assurance that all rapists will be hanged within six months. This comes only a day after Jaya Bachchan was criticised for sufggesting in the parliament that the rapists should be lynched. Maliwal, who began her hunger strike on Tuesday, alleges of the police trying to thwart her. The entire Jantar Mantar area has been barricaded, with the activists given warnings against tents and microphones.
The calls for capital punishment were made after the infamous Nirbhaya case; Though there is no shortage for incidents of brutual rape in the country, the Hyderabad case seems to be the next big to unite the activists and public alike. This time over, however, the Twitterati is not just seeking capital punishment, but more violent punishments.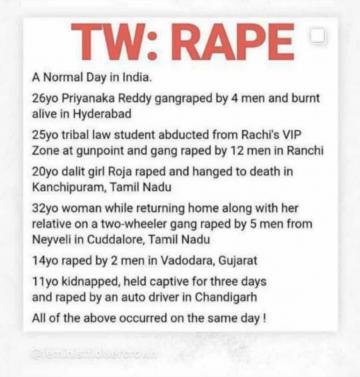 Tuesday also saw the rise of the hashtag, #FailedHomeMinister. While a majority of the tweets seemed to blame Amit Shah for the lapse in law and order and the lack of safety women suffered in the country, some seemed to be tagging him on inflation tweets. There are also several memes deploring the shortcomings ion law when it comes to the safety of women. Meanwhile, Shamshabad has seen several rallies with the participation of girls in large nujmbers. The lawyers of the Hyderabad court are boycotting the case, refusing to represent the culprits and a video, showing the faces of all the accused were doing the rounds on social media despite the fact that three of them are minors.