The sweetest Constitution Day wishes came from the Israel president!
It has been four years since the first constitution day and the idea seems to be catching up. All government concerns had a flag hoisting and sober celebrations and several tweets wishing Indians on constitution day has been doing the rounds. While popular figures like the Sadguru tweeted to mark the occasion, the sweetest wish came from the president of Israel, Reuven Rivlin.
"Dear friends all over India," he said in a video posted on his personal twitter account, "Congratulations on your fourth Constitution Day marking 70 years of strong democracy in the biggest democracy in the world." He then went on to remember instances from his visit to India three years ago. "I was amazed and inspired by the power, strength, and energy of your great nation," he said, adding, "The Republic of India and Israel are homes for an ancient people and young states with shared values. we face similar challenges and we work together as partners and friends in order to enrich each other and aid each other to keep growing and flourishing."
Congratulations to all our friends in #India on #SamvidhanDiwas #ConstitutionDay2019. The power, strength, and energy, of your great nation is truly inspiring.

Shalom and Namaste from Jerusalem!@IsraelinIndia @indemtel pic.twitter.com/rqMIAl4nKj

November 26, 2019
He went on to wish his counterpart president Ram Nath Kovind and Prime Minister Narendra Modi. 'Ruvi' Rivlin signed off saying, "congratulations to all of you from everybody in Israel!" While the heartening message charmed several Twitterati, the thread turned hilarious after Narendra Modi himself tweeted, addressing his Israeli counterpart Benjamin Netanyahu. Other than a tweet in English in reply to the Israeli prime minister's wishes, Narendra Modi's handle also tweeted a reply in Hebrew. the tweet terms Israel a valued strategic friend and notes that the two countries 'share and appreciate the same values ​​of democracy'.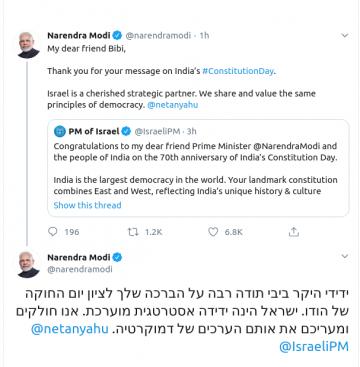 Isreal is a Jewish democratic state that has an unsurpassed record of success in both agriculture and infrastructure, notwithstanding the geopolitical tension the country has been in since conception.