By

Vivek Raj

| Galatta |

Jul 10, 2020, 11:47 am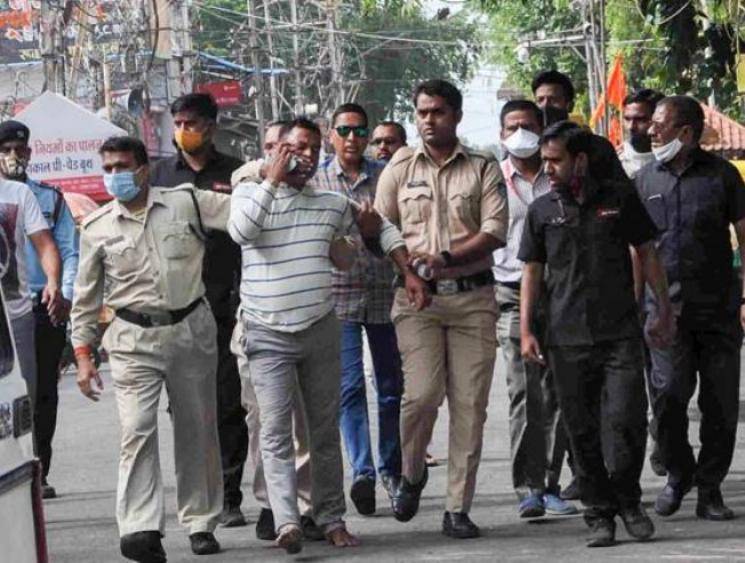 Notorious Uttar Pradesh gangster Vikas Dubey was shot dead by the police in the early hours of Friday morning. He was being taken to Kanpur from Ujjain in Madhya Pradesh, where he was arrested on Thursday. According to reports, Dubey's car had allegedly overturned as he was being taken to Kanpur after which he allegedly tried to make an escape and attempted to snatch a firearm from a Special Task Force (STF) personnel. After the accident, Dubey was surrounded by the police and he subsequently was shot when he began opening fire. Soon after he fell down injured, he was rushed to the hospital where he was declared dead.
Since news broke out about Vikas Dubey's encounter, questions have been raised over the police account over the story that led to his death during the road accident. The UP police have stated that the car in which Dubey was travelling had overturned leading to him and other policemen getting injured. Seeing an opportunity for escape, he snatched a gun from an injured cop. but was asked to surrender as he was surrounded by police. However, Dubey, in return, opened fire, forcing the police to adopt retaliatory measures.
With questions being raised over the statement of the police in regard to the encounter, pictures from the location including a video shared by news agency ANI UP show three cars going past a toll booth around 4AM that had Vikas Dubey in a different car and is not the one that is seen overturned to its side on the highway after the accident. No comment has been made yet by the police regarding Dubey being shifted to the other car. Another video taken at around 6.30 AM shows media cars with press persons chasing the police convoy, but getting stopped, just half an hour before the encounter.
Dubey was apprehended to the Madhya Pradesh police on Thursday by security guards at the Mahakaleshwar temple where he had emerged. He had killed eight policemen when they tried to arrest him at his village, Bikru, near Kanpur and had then been spotted at a hotel at Faridabad near Delhi. Five of his close aides including Dubey's personal bodyguard have also been killed since then by the police. There were 62 criminal cases lodged against Dubey in Uttar Pradesh, among which includes five cases of murder and eight cases of attempt to murder.
It is to be noted that a petition had been filed at the Supreme Court on Thursday night asking for the protection of Vikas Dubey including a CBI investigation into the recent encounters. Several eyewitnesses who have spoken to the media have reportedly said they heard gunshots near the accident site, but were then asked to leave by the police.
In the meantime, leading politicians have weighed in their views on the Vikas Dubey encounter including former Chief Minister of Jammu and Kashmir Omar Abdullah taking to his Twitter page to tweet, "Dead men tell no tales #VikasDubey". Former Chief Minister of Uttar Pradesh and Samajwadi Party leader Akhilesh Yadav has questioned the government over the encounter by tweeting in Hindi, "The car hasn't overturned but the government has been saved from being overturned because of secrets,". Reacting to the death of the gangster, General Secretary of the All India Congress Committee in charge of Eastern Uttar Pradesh, Priyanka Gandhi tweeted in Hindi, "The criminal is dead, but what about those who aided the criminal." With political leaders questioning the government, social media users too are weighing in their opinions with many saying Vikas Dubey's death was a #FakeEncounter with the hashtag.
Below are some of the visuals from the area of the Vikas Dubey encounter shared by news agency ANI UP:
#WATCH Media persons, who were following the convoy bringing back gangster Vikas Dubey, were stopped by police in Sachendi area of Kanpur before the encounter around 6.30 am in which the criminal was killed. (Earlier visuals) pic.twitter.com/K1B56NGV5p

— ANI UP (@ANINewsUP) July 10, 2020
Kanpur: Latest visuals from the site of UP STF car convoy accident and encounter of #VikasDubey in Kanpur.

Large number of people, police and media personnel seen in the area. pic.twitter.com/46hPDZ55R0

— ANI UP (@ANINewsUP) July 10, 2020