Cop killer UP gangster Vikas Dubey gets arrested at Madhya Pradesh temple
By

Vivek Raj

| Galatta |

Jul 09, 2020, 12:38 pm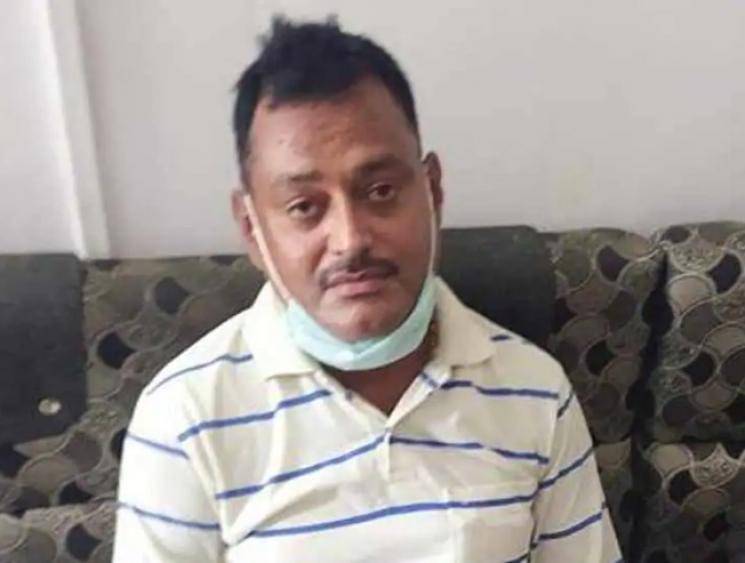 Notorious gangster Vikas Dubey from Uttar Pradesh was arrested on Thursday morning from a temple in Ujjain in Madhya Pradesh. Having killed eight policemen last week, he was on the run for five days across four states with two of his aides getting killed in separate encounters in UP. He was arrested after appearing at the Mahakal temple in Ujjain to offer his prayers.
Footage of the arrest has gone viral on social media with news agency ANI sharing the clip where Vikas Dubas, in a mask, is being taken away by more than half a dozen cops. Upon being escorted to the police vehicle, he is seen and heard shouting, "Main Vikas Dubey hoon, Kanpur wala" (I am Vikas Dubey, from Kanpur).
He was reportedly spotted entering the temple through the back gate when a shopkeeper recognized and alerted security guards nearby. Upon coming out of the temple, the guards questioned him and he is reported to have produced a fake ID card, which was that of a younger person. When interrogated further, he yelled at them after which he was dragged to the police. There is no clarity as yet as to how Vikas Dubey reached Ujjain as he was last seen at a hotel in Faridabad with the police hot on his trail. He made his way through as an ordinary person clad in a t-shirt and a mask without his henchmen.
Madhya Pradesh Chief Minister Shivraj Singh Chouhan informed that he had been constantly communicating with Uttar Pradesh CM Yogi Adityanath regarding Vikas Dubey's arrest and told that he would be apprehended to the UP police. Narottam Mishra, Madhya Pradesh Minister said, "It is a big success for the police, Vikas Dubey is a cruel killer. The entire Madhya Pradesh police force was on alert. He has been arrested from Ujjain Mahakal temple. We have informed Uttar Pradesh Police,".
Questions, however, are being raised as to whether Vikas Dubey, who was on the run from the cops for five days, was indeed arrested or he surrendered considering he managed to reach the Ujjain temple. Amitabh Thakur, an Indian Police Service (IPS) officer in UP tweeted, "We could not arrest Vikas Dubey and he surrendered in Ujjain. We could not arrest him even after such a huge incident and he kept travelling around. This should be investigated,".
Former UP Chief Minister and Samajwadi Party chief Akhilesh Yadav has also questioned whether Dubey was arrested or surrendered. He tweeted, "We hear that the main accused of the Kanpur-Kand is now in police custody. If true, then the government should clarify whether this was a surrender or arrest. Also his call records should be made public so the nexus can be exposed,".
Vikas Dubey killed eight policemen on Friday when they planned to arrest him at Bikru village in Chaubeypur area of Kanpur. Charged in nearly 60 cases among which include murder, kidnapping, extortion and rioting, he had reportedly set up an ambush for the policemen arriving to capture him and with the help of his henchmen, armed with AK-47s, fired from the rooftops.
An inter-state manhunt was then launched including a bounty of up to Rs. 5 lakh being announced upon his escape. A police inspector near Dubey's village was arrested yesterday for allegedly tipping off the gangster and allowing him to escape the clutches of law on a frequent basis. The search for Dubey was intensified after he was spotted at a Faridabad hotel near Delhi on Wednesday morning. His right hand man and close aide, Aman Dubey, was killed yesterday by the police while one other gang member, Prabhat, was shot dead at the hotel while trying to make a run from the police.
Watch videos of Vikas Dubey being taken away by the police below:
#WATCH Madhya Pradesh: Vikas Dubey, the main accused in #KanpurEncounter case, has been arrested in Ujjain pic.twitter.com/pmh5rwl3Z4

— ANI (@ANI) July 9, 2020
#WATCH Madhya Pradesh: After arrest in Ujjain, Vikas Dubey confesses, "Main Vikas Dubey hoon, Kanpur wala." #KanpurEncounter pic.twitter.com/bIPaqy2r9d

— ANI (@ANI) July 9, 2020