By

Vivek Raj

| Galatta |

Jun 29, 2020, 08:45 pm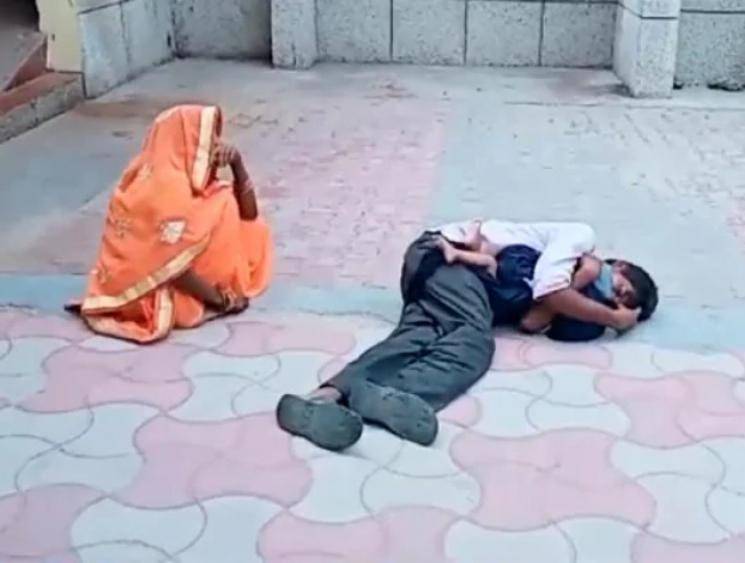 The death of a one-year-old baby boy named Anuj has left a massive hole in the hearts of his parents who are seen crying uncontrollably inside a government hospital complex in Uttar Pradesh's Kannauj town. The young parents had rushed to the hospital, which is 123 km from the state capital, Lucknow, after their child developed a fever and a swollen neck. In their statement, they allege the doctors avoided touching their son and told them to take the child to Kanpur, which has more specialised hospitals and was 90 km away. However, the doctors in a statement have refused the allegations, which the district administration too have gone on to record to reportedly back up.
A video of the couple crying with the father gripping the child's body while rolling on the floor has gone viral on social media. In a 12-second video, the parents, Premchand and Asha Devi, are shown devastated upon the news of their baby boy's death with both crying. Another clip, shot a while earlier reportedly, shows the child being examined by a doctor in the hospital on a bed in the emergency ward.
Prem Chand reportedly has stated his child was examined only after a few people took out their mobile phones and began filming them. Prior to that, he states, no doctor had come forward to touch Anuj. Apparently, the doctors had told the parents to take the child to Kanpur, but he couldn't as he stated he was poor and had no money. The child's mother, Asha Devi, reportedly further added saying they were kept waiting for 30-40 minutes after which he was admitted, but their son had then died. On the other hand, the doctors and officials in the district denied any negligence.
A government official in Kannauj speaking to the media said that the boy was brought to the hospital yesterday evening at around 4.15PM. A child specialist was called to the emergency ward as the health condition of the child was serious. However, the boy passed away in the next 30 minutes. The child could not be saved despite the best efforts of the doctors, the official said.
The video is in the tweet below:
वीडियो यूपी के कन्नौज का है। आरोप है जिला अस्पताल में बच्चे को इलाज नहीं मिला। पिता, अपने बच्चे की लाश को सीने से लगाए रोता रहा।

वीडियो दिल को झकझोर देने वाला 😢@Uppolice #UPPolice #Kannauj #UttarPradesh @CMOfficeUP @myogioffice pic.twitter.com/fQzfkS2N9K

— vinay saxena (@vinaysaxenaj) June 29, 2020