Mumbai woman brings traffic to a standstill after seeing husband inside car with another woman
By

Vivek Raj

| Galatta |

Jul 14, 2020, 11:28 am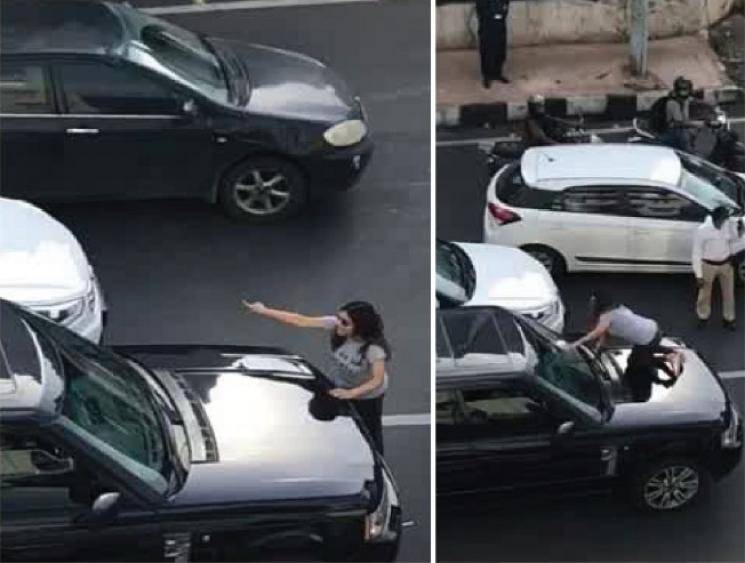 Mumbai's Peddar Road witnessed unexpected scenes on Saturday when a woman saw her husband driving his car with another woman. The married woman, who was shocked to see her husband with another woman, stepped on to the main road and blocked the vehicle. Demanding that he step out of his car, the furious and enraged married woman then climbed on top of her husband's car and demanded him to step out of the vehicle. However, the husband inside the car with the other woman did not budge or step out of the vehicle and stayed inside, locking the windshields as his wife kept banging on them on the outside.
As the husband refused to open the car door, lower the windshields or step outside the vehicle, the married woman at the top of her anger began yelling at the middle road and hurled abuses against him. She then proceeded to take out her footwear and hit the windshields of the car with them. As the married woman's car was blocking the way for her husband's car, traffic was brought to a standstill, after which both of them moved their vehicles to the side of the road.
Upon parking her car to the side, the woman instantly comes back rushing to her husband's car once again demanding he step out of the vehicle. She then manages to grab hold of him and attacks him in the middle of the road. The police nearby then intervene and stop the married woman from assaulting her husband physically and then escort them to the Gamdevi Police Station in Grant Road.
The married woman, who was fined for obstruction of traffic, in her statement said that she suspected her husband having an extramarital affair with another woman and was the reason why she lost her temper after seeing him with someone else. She said that her outburst on the middle of the road was due to the fact that she could not bear the pain caused by her husband's actions. The entire incident on the main road with the married woman losing her calm and demanding her husband to step out of the car was captured on video, which has since gone viral on social media. Watch it on Twitter below:
Suspecting husband of having an affair, woman blocks his car on road that leads to traffic jam. Bhai saab! pic.twitter.com/RY0Ytrx1kB

— Sushmita Panda (@SushmitaPanda) July 13, 2020