Kerala woman rushes behind bus so elderly blind man can board, netizens shower praises!
By

Vivek Raj

| Galatta |

Jul 09, 2020, 04:46 pm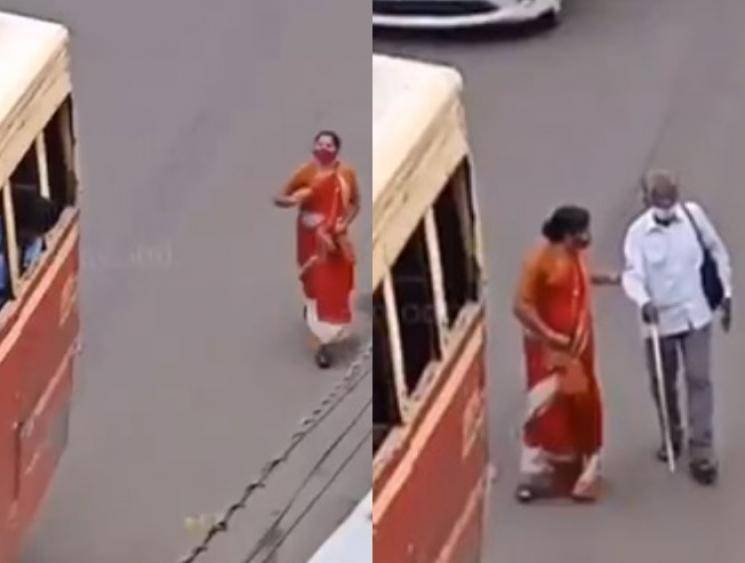 The coronavirus pandemic has put the world into a spin and brought life to a complete standstill in countries around the world. Lives have been lost, economies have been shattered and normal day-to-day life has been thrown out of balance. In the midst of the COVID-19 crisis, one act of kindness and magnanimity from a woman in Kerala has won hearts and praises among netizens on social media.
A video of an unknown woman in Kerala has gone viral on social networking forums where we see her chase a bus down and tell the conductor and the driver to stop the vehicle. At first, we assume she is chasing the bus so she can board it to head to a destination she wants to go. However, as soon as the bus stops and pulls over, we see her run back to an elderly person, who is blind and is walking slowly. We then witness her hold the old man's hand and gradually make him pick up the pace so that the bus doesn't leave the place, all done whilst not taking a moment for herself to catch her breath. She then ensures that the old man gets on board the bus after which she walks away towards the direction she ran from.
The video has been shared on social media by many with praises being showered upon the unknown woman for her act of generosity by sharing her time and investing physical effort for another person she either didn't know and did so for the sake of humanity and, as a mark of respect for the elderly and the disabled. Many have also lauded the conductor and driver of the bus for not rushing and taking off with the vehicle.
Among the many who have been touched by the kind act after viewing the video, Tamil Nadu IPS officer and Superintendent of Police (SP), Tirupparthur, Vijayakumar shared the video on his Twitter page with the caption, "she made this world a better place to live.kindness is beautiful!Smiling face with heart-shaped eyes".
An interesting aspect in the video is also the use of the hit background theme from the 2018 pan-Indian action blockbuster Kannada film, K. G. F: Chapter 1, starring Yash. One of the main highlights in the film was the mother-son relationship with actress Archana Jois playing mom to Yash, who passes away when he's a young child. Many have called the addition of the music composed by Ravi Basrur a perfect and fitting one, which emphasizes the love for fellow human beings.
Although the video is shaky and has been shot on a cellphone from atop a rooftop, it has since been shared and retweeted by countless. At a time, when transportation across the country has been severely hit due to the coronavirus pandemic, a citizen going out of her way to help another person has touched many. Watch the video shared by Tiruppathur SP Vijayakumar on Twitter below:
she made this world a better place to live.kindness is beautiful!😍

உலகம் அன்பான மனிதர்களால் அழகாகிறது#kindness #love pic.twitter.com/B2Nea2wKQ4

— Vijayakumar IPS (@vijaypnpa_ips) July 8, 2020