Bengaluru man ends up in jail after viral video shows him riding bike at 300km/hour
By

Vivek Raj

| Galatta |

Jul 22, 2020, 04:42 pm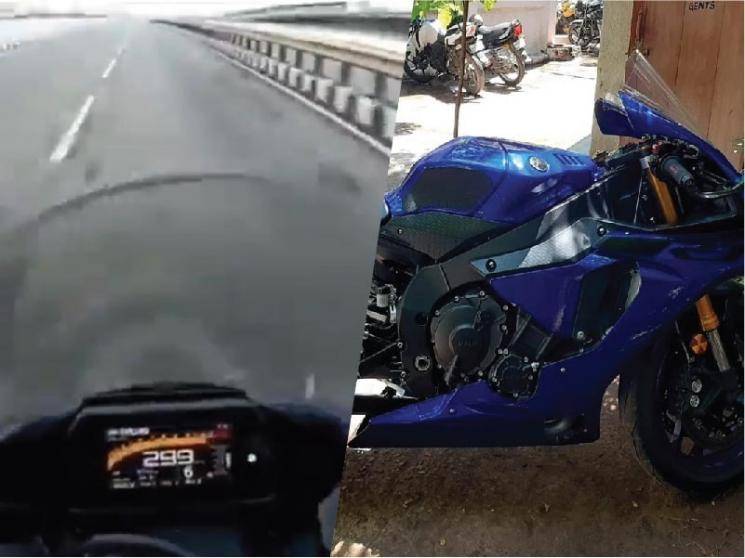 A man in Bengaluru showed his daredevilry on the city's roads on his 1000CC motorbike at a speed hitting 300km per hour for almost the entire duration of his ride. The individual identified to be a Muniyappa, riding his high-end Yamaha R1 bike during the ongoing lockdown, was seen zooming at jet speed on the the nearly 10-km long four-lane Electronic City Elevated Expressway, or popularly known in the city as th E-city flyover. The video was shared by the rider himself on social media, which has him going past several commuters, cars, trucks and auto rickshaws coming in both directions.
The video which went viral, eventually came to the notice of the city police, who stepped in and took action. Bengaluru Joint Commissioner of Police Sandeep Patil posted the video on his Twitter page along with a message of caution for those traveling in the city saying, "This video made viral by the rider…going at a dangerous speed of almost 300 kmph at Ecity flyover putting his own & others life at risk..CCB traced the rider & seized bike Yamaha 1000 CC.. handed over to traffic (police),".
Bengaluru police tracked the individual behind the wheels and arrested him for speeding and also for putting his life as well as others' at monumental risk through his act of reckless riding. The cops also went on to seize his 1000CC bike. As of now, it is unknown the level of extent in damages he has caused, if any, or the charges he will be facing. No statement has been divulged by the authorities as well as to why the biker sped at such high speeds, especially when a strict lockdown has been enforced in the city due to the ongoing coronavirus pandemic crisis.
Watch the video shared by Bengaluru Joint Commissioner of Police Sandeep Patil on his Twitter page:
This video made viral by the rider.. going at a dangerous speed of almost 300 kmph at Ecity flyover putting his own & others life at risk..CCB traced the rider & seized bike Yamaha 1000 CC.. handed over to traffic.. #drivesafe.. @CPBlr @BlrCityPolice pic.twitter.com/RoC6csoR38

— Sandeep Patil IPS (@ips_patil) July 21, 2020