Galatta |
Jul 21, 2020, 08:13 pm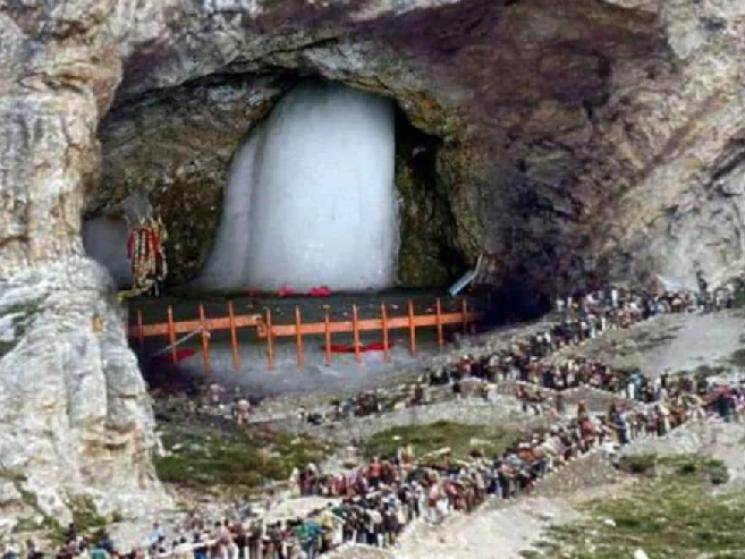 The Amarnath Cave, situated in Jammu & Kashmir region of India is located at about 141 Kms from Srinagar, the capital of the state! This Hindu shrine is very special for followers of Hinduism and is considered one of their most holy places! Considered to be one of the 51 Shakti Peethas, this cave is surrounded by snowy mountains and is covered by snow for most part of the year, except for a small duration in summer, when the snow clears enough for pilgrims to witness the Shiva Linga made of ice (stalagmite)! According to religious Hindu texts, this place is considered very sacred and the location of where Lord Shiva explained the secret of life & eternity to his wife, Goddess Parvati!
The annual pilgrimage undertaken by Hindus to the 130-feet high Amarnath Cave in the Himalayas, is called the Amarnath Yatra and over 600,000 people reportedly participate in this Yatra every year! However, there were a lot of doubts over this year's Yatra, which usually happens during the July-August period! After a lot of speculations, it has now been announced that this year's Amarnath Yatra has been cancelled in view of the ongoing COVID-19 Pandemic! The Shri Amarnath Shrine Board (SASB) announced the cancellation of this year's Yatra, after most religious places in Jammu & Kashmir have been closed due to the Pandemic! A high-level meeting presided by GC Murmo - the Lieutenant Governor of J&K, was organized earlier today via video-conferencing to put an end to speculations over the Yatra!
A statement release by the SASB states, "Based upon the current circumstances, the Board has decided with a heavy heart that it is not advisable to hold and conduct this year's Shri Amarnathji Yatra and expresses regret to announce the cancellation of the Yatra!" However, the Board has taken into consideration the religious sentiments of millions of devotees and it shall continue to live telecast and provide a virtual darshan of the morning & evening Aarti ceremonies! The traditional rituals will however, be carried out as usual! Initially, there were talks to hold the Yatra for just 15 days with permission for just 500 pilgrims per day, to travel to the Amarnath Shrine by road! However, considering the high spread of COVID across the country and the heavy spike in the number of cases in recent times, it has been decided to cancel the Yatra, this year!