Galatta
|
03:00 AM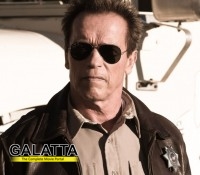 Actor Arnold Schwarzenegger is back after his 2003 film Terminator 3: Rise of the Machines.
In his upcoming film, The Last Stand that releases on January 17, he will be seen donning the lead role of Sheriff Ray Owens who prepares to take on an escaped Mexican drug kingpin and his men.
While between 2003 to 2011, the actor served as Governor of California, the actor is back after a great warm up session. Getting back to the screen after 10 years, Arnold says, "I just slipped into it in a natural way and felt good about being on the set, doing the scenes, handling all the weapons, doing the action, the stunts and all that. Kim Ji-Woon was very passionate, very enthusiastic."
Feeling fortunate that he received several offers after his retirement as a Governor, Arnold says that, though the audience thinks that he has what it takes to do his own stunts, the actor believes that as he has grown old, the challenge to work more harder is much more.
This film will mark the American debut of Korean producer Kim Ji-woon , cinematographer Kim Ji-yong and composer Mowg.