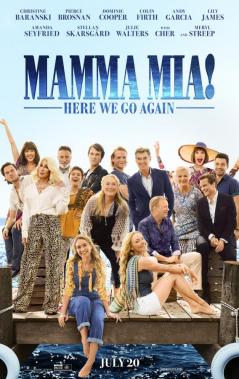 Mamma Mia! Here We Go Again Movie

Photos
View More Mamma Mia! Here We Go Again Photos
Mamma Mia! Here We Go Again Movie Cast

Photos
Mamma Mia! Here We Go Again Movie review
Mamma Mia! Here We Go Again is an Enlish musical romantic comedy film directed and written by Ol Parker. Mamma Mia 2 film stars Lily James, Amanda Seyfried, Christine Baranski, Julie Walters, Pierce Brosnan, Dominic Cooper, Andy García, Colin Firth, Stellan Skarsgård, Cher, and Meryl Streep.
Two timeline stories of a girl and her mother at younger age have been narrated by linking the similar situations happened in their lives.
Performances of Lily James and Amanda Seyfried are superlative, in spite of breaking their characters in the prequel, the refreshing presentation still offer many engaging moments. Casting is just perfect, the young age actors beautifully adapt to match the attitude and looks of the oldies. But certain popular artists have only tiny roles to play here.
Director goes clean with respect to his job. He has delivered a simple line in an interesting narration pattern, taking us back and forth of two lives. Dialogues go well with core idea of scenes. Few natural moments gave a pleasant feeling. Romantic portions worked very nicely as the chemistry was delightful to watch.
Anne Dudley's music was mesmerizing, the songs were sensible and lyrics perfectly suited the situations. They effortlessly convey the emotion, but most of them goes disengaging without carrying a holding factor to it. However, the musical movie lovers will enjoy it, but it would be weird for others. Meryl Streep's cameo in the climax has the potential to make everyone throw away all the negative thoughts.
Robert Yeoman's cinematography enriched the mood of the movie. Peter Lambert's editing was also decent, but few songs could have had lesser duration. Art direction was just stunning, the team has worked with utmost concentration to bring in the authenticity for two contrast time periods. Costumes were also lovely for all the artists.