Elder sister beats COVID-19 and younger sister begins dance celebration - viral video!
By

Vivek Raj

| Galatta |

Jul 20, 2020, 01:00 pm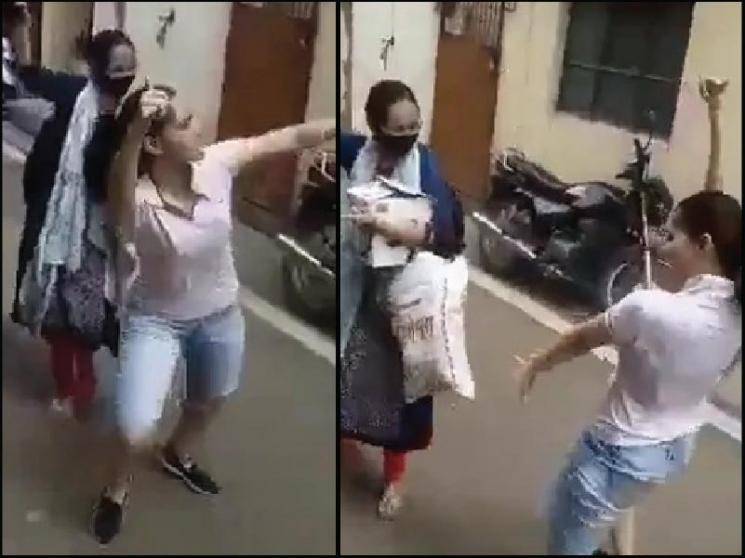 A video has gone viral, which shows two sisters celebrating their reunion after being separated over the past few days, due to one of them being sent to institutional quarantine for recovery from coronavirus.
The video shows the elder sister coming back home with her younger sister making preparations for her return. Initially caught unaware that her elder sister is entering their street, her mother informs her younger daughter, who is making preparations for the celebrations that follow next. As soon as the elder sister comes close, the younger sister kicks off the celebration by playing the smash hit peppy song, 'Tai Tai Phish' from the Hindi film, Chillar Party. What we witness next is a completely ecstatic display of footwork and dance movements by the two, who enter their own world of celebration after their reunion.
The video has been shared by IPS officer Dipanshu Kabra on his Twitter page, who wrote that he loved the celebration of the two sisters. He wrote, "Just Loved the #SistersDuet! A worthy welcome of Elder Sis, returned after defeating #CoronaVirus. No Pandemic can reduce a nanometer of smile, of any family that cherishes such Warmth, Love & Energy." The video, which has now been shared by several people online, has gone on to win a double thumbs up by viewers across the country.
India recorded more than 40,000 fresh coronavirus cases over the last 24 hours taking the total to 1.11 million infections. There were 681 casualties reported taking the total number of deaths to 27,497. At present, more than 7 lakh people have been discharged after making a recovery during treatment while the number of active cases is standing at over 4 lakh persons. This is the first time that India has recorded more than 40,000 infections over a 24-hour period with Maharashtra reporting the highest number of cases, followed by Tamil Nadu, Delhi, Karnataka, Andhra Pradesh, Uttar Pradesh and Gujarat. The COVID-19 outbreak, to date, has infected nearly 14.5 million people globally, with six lakh casualties and the United States continuing to be the worst-affected nation in the world.
Below is the video of the two sisters celebrating their reunion after one of them beat COVID-19:
Just Loved the #SistersDuet!❤️
A worthy welcome of Elder Sis, returned after defeating #CoronaVirus.

No Pandemic can reduce a nanometer of smile, of any family that cherishes such Warmth, Love & Energy. pic.twitter.com/cTkUGT8RPw

— Dipanshu Kabra (@ipskabra) July 19, 2020