Mumbai cop jumps into river to save woman from committing suicide after husband died due to COVID-19
By

Vivek Raj

| Galatta |

Jul 30, 2020, 08:42 pm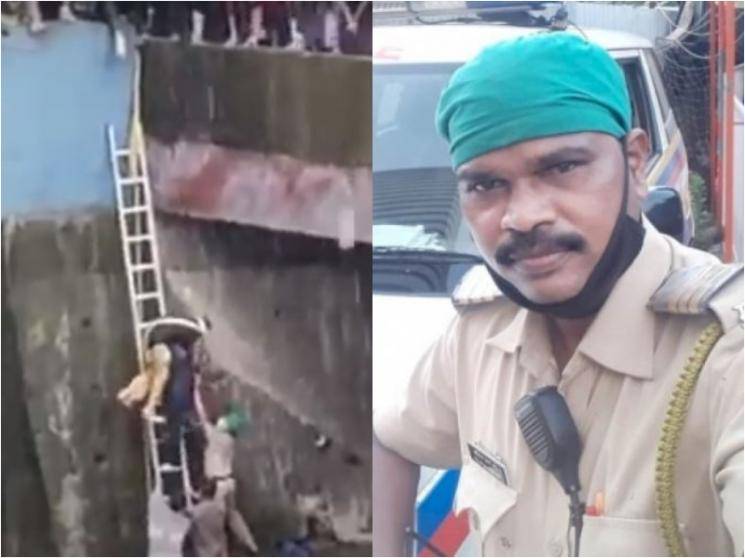 In what can be described as nothing short of a daring effort, a Mumbai policeman on Thursday didn't hesitate for a second to risk his life by jumping 30 feet deep into the river near the Borivali National Park to save a woman from committing suicide. The woman reportedly had been distraught after the death of her husband, who passed away due to the novel coronavirus.
A video shared by the news agency IANS shows the cop carrying the woman on a ladder to safety after saving her from jumping into the river. As per reports, the Kasturba police station in Mumbai city received a phone call earlier today afternoon saying that a woman had jumped off the bridge into the river. Police personnel were quick to rush to the spot among whom a cop named Abhiman More had jumped into the river to rescue the woman. Shortly thereafter, the fire brigade had arrived and with their assistance pulled the woman out of the river. She was then immediately rushed to the hospital for treatment.
During the police's inquiry, the woman revealed her husband had succumbed to COVID-19 last month and was the reason why she tried commit suicide. She revealed she had been in a state of depression all this time and found ending her life as the only possible way to relieve herself from the pain of her husband's demise. The policeman Abhiman More was later praised by the bystanders for his commendable and heroic act.
Maharashtra on Thursday recorded 11,147 fresh COVID-19 cases, taking the overall tally to 4,11,798. It is the state's highest single-day spike of coronavirus cases to date, with the death toll for the day registering at 266 casualties, taking the total tally to 14,729.