Shanthnoo Bhagyaraj to debut in Tollywood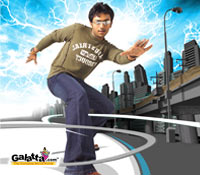 By
Esther Sunita [ June 03, 2008 ]
Shanthnoo Bhagyaraj to debut in Tollywood
Veteran actor-director K. Bhagyaraj is all set to direct his next project featuring his son Shanthnoo. But wait! What happened to Sakkarakatti? Due to unforeseen circumstances that often haunt the film industry, Shanthanoo Bhagyaraj's Tamil debut has yet to begin production.
Right now, Bhagyaraj has turned his attention to launching his son in Tollywood. The movie will be a typical Bhagyaraj flick, a racy commercial entertainer. The film's shooting was started on Monday. Insiders say that Shanthnoo's debut in Telugu will roll simultaneously in Tamil as well. A.R. Rahman is composing the music.
Click here to view film stars' photo galleries and movie stills.