Suriya's sister Brindha's wedding reception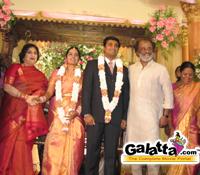 By
Admin [ November 15, 2005 ]
Suriya's sister Brindha's wedding reception – a Galatta exclusive!
Earlier tonight Chennai's Greenways Road was choc-a-bloc with traffic. The reason: the star-studded wedding reception of actor Suriya's sister Brindha & her husband Sivakumar (the name is a coincidence!).
Held at the Mayor Ramanathan Chettiar hall, this grand event saw thousands of guests from Chennai and outside. There were stalwarts of different professions walking up on stage to bless the couple and exchange a couple of words with the famous father and the famous son – everyone who's anyone, from Vaiko to Vijaykumar IPS to our own Sarath Kumar & Radikaa, director Bala, director Shankar, Sathyaraj & son Sibi, Swaroop Reddy of Sathyam Cinemas, Prakashraj, Bhagyaraj, Sarita, Priyamani… of course, the big thrill for onlookers was when Superstar Rajinikant & Lata Rajinikant came up on stage to wish the couple!
Suriya and Karthik took their jobs as brothers of the bride and ushers seriously and did a pretty good job of it, considering that the hall was packed with so VVIPs and fans shoulder to shoulder! Suriya even managed to exchange a light moment with Galatta.com's COO Girish Ramdas on how difficult his job was!