Cheran clears his stand on daughter's issue!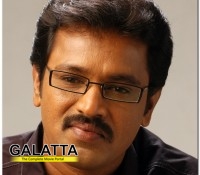 By
Ambili S [ August 04, 2013 ]
Award winning director Cheran broke down while explaining his stance, regarding his daughter's love affair, to the media. Few days back, Cheran's daughter Damini, filed a petition seeking protection from her father who was allegedly opposing her love affair. She also claimed that her father (Cheran) locked her inside her home after he discovered the affair.

However, Cheran met the press recently to clear his stand. He said that he is not against his daughter's love affair but being a father, he wanted his daughter to be with the right person. He also stated that while doing a background verification he found out that Chandrashekhar (Cheran's assistant) was having affairs with several women. "As a father I would like my daughter to marry a man with good character," Cheran added. Dhamini was sent to a government home in Mylapore as she refused to go home with her parents.

Cheran was accompanied by Sarathkumar, Radharavi and Ameer during the press meet.