Celebrated Chef Jacob passes away!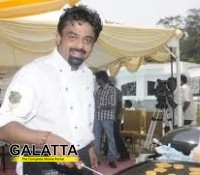 By
Mohan K [ November 05, 2012 ]
The famous 38-year-old chef Jacob Sahaya Kumar Aruni, a Guinness Record holder, passed away at a private hospital. He is said to have had a massive heart attack, following which he was admitted to a renowned private hospital, where despite intensive treatment he succumbed to his ailment. Chef Jacob is very popular in Tamil Nadu, and has appeared in a number of TV shows and cookery competitions. Jacob holds the record for cooking 485 different dishes in just 24 hours. Galatta.com expresses its deepest condolences to Jacob's family, and prays for his soul to rest in peace.