Vijays Villu stunts on Internet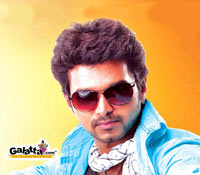 By
Prasanna Singh [ November 30, -1 ]
Vijay's Villu stunts on Internet
Already fighting a menacing nemesis – video and audio piracy – Kollywood now has a big adversary to tackle: the booming technology at the hands of spoilsports and the adventurous! Any film crew would like to keep its work under wraps until the film's release, especially what it deems the film's highlights, to help maintain high curiosity levels among filmgoers and thereby increase business. But there is always someone waiting to play spoilsport. With more sophisticated gadgetry available, it has become very easy for them to leak these "highlights" on the Internet.
Recently, a very important stunt scene and a song from Vijay-starrer Villu (remake of Bollywood blockbuster Soldier) have been leaked and are available on the Internet! Yes! This has naturally shocked and perplexed Vijay and the film crew! Initially, they did not have a clue about how two important highlights of their forthcoming film ended up on the Internet – is it an spoilsport fan or a crew member?! But since this stunt scene is well edited, the crew feels that this has been done by some insider. At the moment, everyone is worried about the damage this incident could cause.
But the crew has forgotten that this kind of incident has become common in the recent past, sometimes working like a double-edged sword! Many important songs of Sivaji and Vaaranam Aayiram made it to the Internet well before their release, but that did not affect business at all – both were highly successful films. Sometimes, such leaks might work in their favour by stoking up public curiosity about the film! And just like Sivaji and Vaaranam Aayiram, Villu has a big star in the lead – Vijay. So, the film crew need not be fazed by this incident. Nevertheless, incidents such as these must be stopped. And that is what Arun Pandian, the film's producer is trying. A disturbed Arun Pandian has lodged a complaint with Commissioner of Police Mr. Radhakrishnan and also requested for legal action on those responsible for this incident.
With Ilayathapathy Vijay having so many fans, the servers of the websites that harbour this video will have a tough time handling requests for Villu stunt scenes and songs! For a while Vijay, Villu, and stunt scenes, video would be the most-searched for words on the Internet!