Sarath, Varalaxmi, Simbu Poda Podi: What's the story?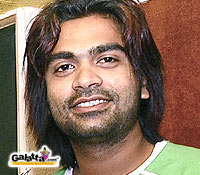 By
Padma Iyer [ June 21, 2008 ]
Sarath, Varalaxmi, Simbu Poda Podi: What's the story?
Just this morning, we had spoken to R. Sarathkumar and he refused to confirm reports that his daughter Varalaxmi's on-screen debut will be in the Simbu-starrer Poda Podi.
To get a 360-degree-perspective on this entire issue, we spoke with actor Simbu himself and this is what he had to say: Varalaxmi had been approached by both the director and the producer for the lead role in the movie Poda Podi (spelt as Pooda Poodi). Since everyone felt that the script was excellent and very heroine-oriented, Varalaxmi would suit the character beautifully, as the role required a good dancer who could also speak fluent Tamil. Varalaxmi too is said to have been very impressed and enthusiastic about the role and the script and concept was even explained to Sarathkumar himself.
Varalaxmi and dad Sarathkumar have not confirmed that she will indeed accept this role and movie. Plus, the film makers have not issued any formal public statement about the movie itself. So, the frenzied reports of Varalaxmi and Simbu are all set to act together in Poda Podi was simply the media jumping the gun on this issue!
The final word on whether Varalaxmi will indeed do the movie rests with her father R. Sarathkumar and herself. As for Simbu, he says that he plays a small but pivotal character in the movie, but the movie itself is scripted entirely around the heroine.
Meanwhile, we at Galatta.com too are all set for official info on the movie, which you can find on www.poodapoodi.com.
More on this issue very soon!