GiveLife Chennai Marathon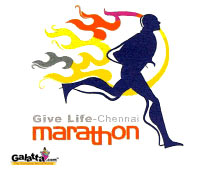 By
Padma Iyer [ August 12, 2008 ]
GiveLife Chennai Marathon
The stage is set for the GiveLife Chennai Marathon, organized for the benefit of underpriviledged children. The marathon, to be held on August 31st, 2008, will be flagged off from War Memorial, Island Grounds.
Since the marathon was announced on June 4th 2008, many prominent citizens of Chennai have extended their support and consented to participate in this event. It is time that all of us joined this effort and make a difference to society. Each and every one can participate in this run.
Let us all join this 'Human Race' - a race for hope, a race for change, a race for new beginnings, a race for a better future! 
For registration and all other information, log on to www.givelife-chennaimarathon.com or call 24994344, 24990201.