Drums Sivamani releases Maha Leela album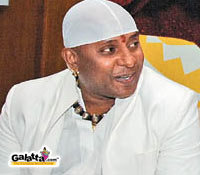 By
Prasanna Singh [ December 02, 2008 ]
Drums Sivamani releases Maha Leela album
When an average Indian with some music knowledge thinks about drums, his mind conjures up the image of the instrument first and then immediately it visualizes Sivamani – the man who is so inseparable with percussion instruments!
The "wonder man" who could virtually turn anything that he can lay his hands on into a percussion instrument, released a music album on December 1st. But the only thing that marred the event's mood was the sudden demise of Sridhar H., the famous sound engineer of film industry. Homage was paid to the dead sound engineer at this event. From the emotional reactions of the music connoisseurs assembled at the event, it was very obvious how big a loss Sridhar's death was and how much he was respected in the industry.
Eminent playback singer S.P. Balasubramaniam, in whose troupe Sivamani started his career as a drummer, was the chief guest. A.R. Rahman, who identified the potential in him and gave him a platform to explore it further, was the second chief guest for the evening.
The music album was released by Anandan Sivamani's mother, Lakshmi Anandan, and the first copy was received by S.P. Balasubramaniam. Titled Maha Leela, the album has 12 songs sung by various eminent singers of Kollywood including S.P. Balasubramaniam, Hariharan, and Shankar Mahadevan.
Sivamani thanked all those who helped him in creating this music album including S.P. Balasubramaniam, Zakhir Hussain, Louis Banks, Hariharan, Leeladri Kumar and Shankar Mahadevan.
S.P.B. was nostalgic when he spoke about Sivamani. He recalled how he joined his troupe as a small kid 37 years ago and how he still performs for his crew. He also expressed his awe for Sivamani's ambidexterity and improvisation skills, describing him as an extremely talented yet humble person.
When A.R. Rahman spoke, he said that it is hard to find good drummers and it is extremely rare to find outstanding drummers and Sivamani is the "rarest of the rarest talents".
Violinist Shyam Thomas and "Mandolin" Srinivasan were also present in the function.
Check out the links below:
Download Tamil Movie Wallpapers
Listen to and download the latest Tamil Movie Songs