Ajith is not Thuppariyum Anand?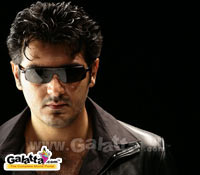 By
Ambili S [ March 06, 2010 ]
Ajith is not Thuppariyum Anand?
After seeing Ultimate star Ajith at the Aasal audio launch, speculations started spreading like wildfire about his next movie with ace director Gautham Menon. The star's stylish crew cut gave rise to speculation whether this would be a police story. With Gautham directing, this could be a good guess. (Gautham's police stories Kaakka Kaakka with Suriya and Vettayaadu Vilayaadu with Kamal Haasan were huge box office hits.)
Now, Ajith's 50th film with Gautham Menon produced by Dhayanidhi Alagiri is believed to be a police story too. Ajith has played a cop in Anjaneya, but the film was not too successful, so we hope it's time Ajith tastes success in a thrilling cop story.
Meanwhile, director Gautham Menon has clearly denied that this Ajith film is titled Thuppariyum Anand. In an interview, he stated "Yes I have written a script called Thuppariyum Anand about a detective in 1920's Madras and given it to Kamal Hassan and Aamir Khan. I'm hoping that one of them will do the film. Once and for all I would like to say that the Ajith film is untitled and is a mass entertainer. All technicians who worked with me in VTV will be a part of this new film, while I'm on the lookout for a heroine."
This film will have one more highlight: music by the Mozart of Madras, A.R. Rahman.