Ganesh Kumar to marry Bindu Menon?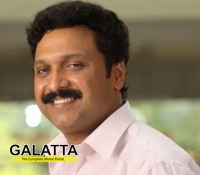 By
Swathi Ganti [ December 16, 2013 ]
Sources say that Ex-Minister and actor KB Ganesh Kumar is getting married for the second time. The actor is going to get married for the second time to the Palakkad based Bindu Menon. Recently the duo's engagement was held at the bride's residence. Sources say that Bindu Menon is a senior manager in the marketing section of Asianet channel's Gulf bureau. Rumour has it that the wedding is likely to take place in 2014. Ganesh Kumar got divorced from his first wife Yamini Thankachi. A lot of hungama happened during his divorce time but all is well now. Ganesh is currently anchoring the Nammal Thammil show on Asianet.