'Vadakakku Oru Hridayam' becomes TV serial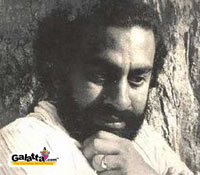 By
Baiju NT [ June 07, 2009 ]
'Vadakakku Oru Hridayam' becomes TV serial
Padmarajan's best-selling novel 'Vadakakku Oru Hridayam' is being made into a mega serial for Amrita TV under the direction of cameraman K.K. Rajeev. Script is by P. Ananthapadmanabhan, son of the legendary writer and filmmaker. The serial will be telecast at 7 p.m. from Monday to Friday, starting from June 8.
Set in the backdrop of central Travancore in 1970's, the story is about three women, the timid, submissive Aswathy, the strong-willed Saraswathy and the ambitious Malini, whose lives are inextricably linked to and influenced by Kesavankutty, the male protagonist.
Through a handful of closely intertwined characters, Padmarajan depicts life as it existed in Kerala almost four decades ago, faithfully reflecting a microcosm of society and addressing issues of marriage, male-female equations and the plight of women.